For Christoper Cole, creating art has become like a second language. "The reason I create art is to communicate ideas and experiences which are beyond the capabilities of language alone to express," he says.
 
Cole's Division III project is entitled "Intimate Excavations." He focuses on installation art, which provides him the flexibility to incorporate multiple mediums, including printmaking, performance, video, sound, drawing and sculpture.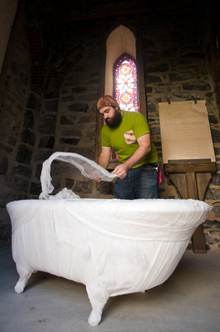 Cole promotes a participatory artistic experience. His work is designed with the intention of being experienced rather than simply viewed. It is dark in content and hue, much of it colored with shades of sepia and white.

He draws inspiration from memories, and considers the artistic process a means of reinterpreting and exploring his memories. Referring to one of the pieces from his Div III show, in which he burned out lines of text about his worst memories onto a table he crafted, he says: "It's about articulating memories and calling them into existence, but erasing them as well. There's an element of memorializing these memories."
 
Cole found inspiration in the theory of French psychoanalyst Jacques Lacan, whose work "explains the inherent defect of language," he says. "His theory gave me license, in a sense, to work with my memories without concern for accuracy, rather truth."

Professor of Art Bill Brayton, a member of Cole's Div III faculty committee found "Excavations" to be particularly impressive. "The exhibition was graduate-level quality. Other faculty commented on that as well," he says. "The way the show was installed was professional—each piece showed a different side of his persona."

Cole credits his Hampshire education for providing the tools to look within himself.  "I've learned how to look at art in a specific way and how to analyze the conceptual foundation of it," he says. "It's also made me extremely critical of my own work."

After graduation, Cole plans to take time away from school to apply for residences and fellowships. "I'm just going to try to continue making work, and develop a body of work that's not course- or school-driven," he says.

"Chris is a really genuine and kind person, that we're going to miss terribly," Professor Brayton says. "He really raised the bar for everyone in the program, he provided a model for what a fully-engaged Hampshire art student can be."