Alum Bob McCarthy Brings Hampshire Mojo to Hedge Fund Management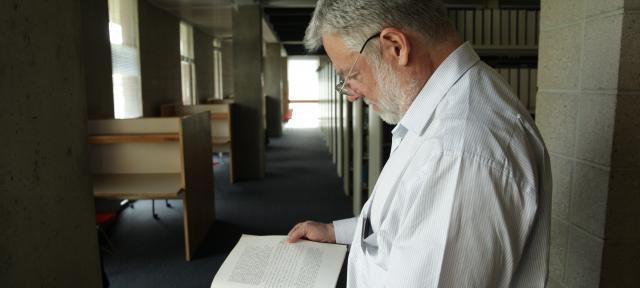 "To create projects, you have to put a package together and make it happen," says Bob McCarthy 72F. "That's what I did at Hampshire."
For his Division III year at the College, McCarthy researched and wrote a thesis about the economic impact of Gothic churches on the towns that erected them. That meant living in Chartres outside of Paris and researching in the library there and "convincing a faculty committee to support my work," he says.
Today, he makes deals somewhat more complex. As one of the partners of Spinnaker Capital, he helps to manage hedge funds specializing in emerging market investments. Thus he finds investment opportunities globally, specializing in distressed and special-situation credits in Asia and Eastern Europe.
McCarthy joined Spinnaker in 2000 after rising through the ranks of finance at Goldman Sachs, Deutsche Bank, and other international firms. His acumen has proved invaluable to Hampshire. While serving on the board of directors, from 2010 to 2018, he advised committees on finance, investment, and enrollment.
He knows well the economics of a college that rejects big lecture classes and ensures that the student–faculty ratio is low. "Tuition alone isn't enough to cover all the expenses," he says, "so donations are vital in helping support a school."
McCarthy has walked the walk of giving to Hampshire. He has contributed every year starting in 1977, the year after his graduation, and the gifts have now exceeded $1million. He gives yearly to the Annual Fund; in 2009 established the Bob McCarthy Scholarship Fund, which supports the James Baldwin Scholars program; supported the construction of the Kern Center; made a significant gift to the Jonathan Lash Chair in Environmental Education; and named Hampshire as a beneficiary of his estate plans.
Sharing is central to McCarthy's ethos. He sits on the board of the Center for Global Development, which works to reduce poverty and income inequality across the world. And he has also loaned precious artworks from the McCarthy Collection of medieval art, yet another significant undertaking, to the Getty Museum, The Metropolitan Museum, the Belvedere in Vienna, the Art Gallery of Ontario in Toronto (where a Hampshire alum is the director) and the University of Hong Kong Museum and Art Gallery, which has put on two shows, both called Illustrious Illuminations, curated from the collection. A third exhibition is in the works.
"Bob is a very energetic and thorough collector," says Florian Knothe, director of the museum. "He discovered his passion for Christian art and has brought together a large and diverse private collection that originates from different geographical location and time periods, spanning the Medieval, Renaissance and Early Modern eras."
"Energetic" may be an understatement: McCarthy divides his time among Hong Kong, where he manages the Spinnaker office and London, where Spinnaker has its head office and where his wife, Michelle, is a practicing psychoanalyst. He has four grown children: Devin, Raab, Elizabeth, and Jack.
This spring will mark 43 years since McCarthy was a Hampshire student, but he's still living in the spirit of the school.
"The motto 'To know is not enough' is really about learning to learn," he says. "And that's the most important thing because you're always going to have to learn. Whatever you're doing is going to change."
1