Daniel Baldwin to Speak on Family, Race Relations, and Growing Up Mixed Race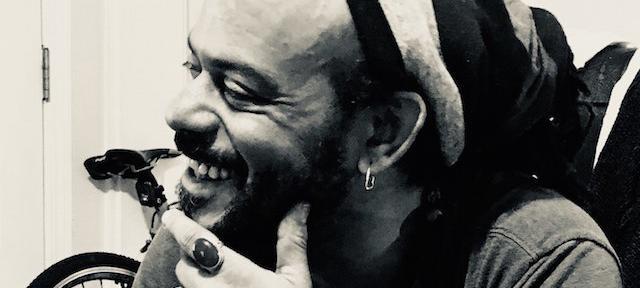 Artist and sound engineer Daniel Baldwin, a nephew of the iconic writer James Baldwin, will deliver a public talk at Hampshire College on Tuesday, April 10, titled "I'm Too Young to Write an Autobiography: James Baldwin, A Look in the Mirror. "
Baldwin will talk about his relationship with his uncle and how it shaped his identity as an artist. He will also speak on his experiences growing up mixed race, "how our shared view of history has changed, not necessarily evolved," he says, "and how it affects our worldview."
The event, which is free and open to the public, will take place in Franklin Patterson Hall, East Lecture Hall, at 5:00 p.m. Pizza and refreshments will be served.
James Baldwin, who taught at Hampshire from 1983 to 1986, is one of the most important writers, intellectuals, and activists of the twentieth century. Through his writing he explored the themes of race and sexuality in unprecedentedly complex and provocative terms. He died of stomach cancer in 1987, at the age of 63. Hampshire's James Baldwin Scholars program, founded in his honor, has been providing scholarships to talented students from underserved communities for more than 25 years.
Daniel Baldwin's talk at Hampshire will, he says, (likely) begin with Napoleon and end with some educated guesses on "the fire this time" (a reference to his uncle's The Fire Next Time). Daniel's father, David — James Baldwin's youngest brother —was born in Harlem. His mother, Carole Weinstein, was a second-generation American from Brooklyn.
For more information, contact Uzma Aslam Khan, assistant professor of fiction writing at Hampshire, uakIA@hampshire.edu.
The talk is sponsored by Creative Writing, the James Baldwin Scholars Program, UMOJA, the Eqbal Ahmad Initiative, Africana Studies, the School of IA, the School of CSI, the Office for Diversity and Multicultural Education, and Ethics and the Common Good.
1