Fiction Writing Helped Amani Smith 15F Explore Relationships Between Time, Memory, and Generational Trauma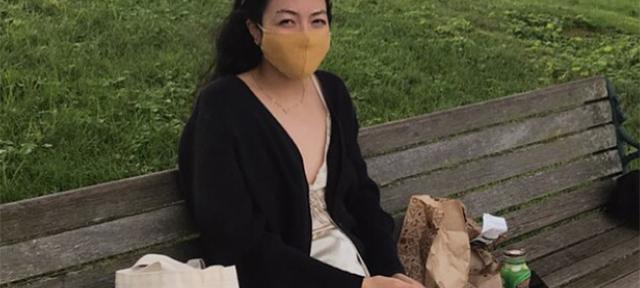 Smith's Div III is a compilation of personal short stories that center around the feeling of "transcendental homelessness," or feeling a permanent sense of separation from an ideological home.
Recent Hampshire College graduate Amani Smith 15F's Div III project employed fiction writing to explore concepts of time, memory, and generational trauma as a result of Korean colonial displacement and diaspora. We sat down with Smith [virtually] to discuss how their educational trajectory changed over time and why their Div III proved a starting point for future work.
Where are you from? What attracted you to Hampshire?
I'm originally from Brooklyn, New York, but I have lived pretty much all around New York City growing up. I learned about Hampshire through a friend of mine who attended the Institute for Collaborative Education and was interested in the prospect of alternative education. After visiting Hampshire's campus and hearing students talk about such specific majors and concentrations, I knew that it would be a perfect place for me as a film student also interested in a broader liberal arts education.
Can you talk a little about your Div I and II experience and how that got you to your Div III? Were you surprised at all by the journey?
I think I was surprised at how much control I was given at Hampshire to design and formulate my own education. For Division I, or my first year at Hampshire, I had requirements to take, but there was always something that related to my interests. I took two critical race theory classes, Theorizing the Color of Law and The School to Prison Pipeline, as well as a filmmaking class and a social psychology class. For my Div II, I was given two years to determine my concentration, which would eventually culminate into my Div III, by selecting courses that could build upon my own ideas and questions. It was really up to me for both my Div I and Div II to decide what and how I was learning, which was so different from my very typical and straightforward high school experience. I was a bit hesitant at first because I didn't initially believe in my ability to create a structured education for myself. But with guidance from faculty and peers, I found that it was more than possible.

Please tell us a little about your Div III project (both as a process and a product).
My Div III is a compilation of personal short stories titled, How Do I Tell, about my family history and childhood, as well as the present, and how the past always bleeds into the present. These short stories explore time and memory as well as generational trauma as a result of Korean colonial displacement and diaspora. They center around this feeling of "transcendental homelessness," or feeling a permanent sense of separation from an ideological home, and this theme of separation is also mirrored in the fragmentation/erosion of relationships within my family.
The compilation includes three stories: "Introduction," that provides contexts for the following pieces; "123rd st," which explores some of these fragmented relationships; and "Genesis Piece," which takes shape as a letter to my mother but begins to explore and uncover the long and difficult history of my family, which has been buried for many decades.
I was initially really interested in studying film, but during my second year at Hampshire, I ended up in a writing workshop with fiction writing professor Uzma Aslam Khan (who is just such an amazing teacher) thinking that it could perhaps improve my screenplay writing or storytelling skills. But I was so inspired by this course, by my peers' work, their kind but critical feedback, and this warm and safe workshopping space that writers share that my medium of choice shifted from film to writing prose.
I met with my committee almost every week for two semesters. They helped me stay organized and were always reviewing my work, asking me questions to push me further. I interviewed my mother and my grandmother and wrote out timelines to organize events. I read books by other Korean authors, textbooks about diaspora, about Korean immigrants in the U.S., and novels about Korean family relations. I read many short stories that experimented with time and memory. I read through a lot of my mother's college writing, including her poetry. I spent a lot of time writing awful stories and poems that did not make it into my Div. But I also spent a lot of time writing as an exercise in order to dig through my own past. To, in a way, sort it all out. After all of this work, however, it seemed like I was left with more questions than I had before I started. This is why I like to view my Div III as a starting point, or perhaps, an anchor, for me as a writer.

Who was on your committee? Are there other faculty, programs, or resources you also found helpful during the Div III process?
Lili M. Kim was my chair and Alejandro Cuellar was my committee member. Wow, it feels strange to say "was"! I'm so happy that I got to work with both Lili and Alex. Lili is an associate professor of history and global migrations and Alex is a writing professor (with whom I have also taken a few workshops). They were so amazingly helpful and patient with me throughout the whole process. And although Lili and Alex were on my committee, my other writing professors, Uzma and thúy, were also reading my work and giving me feedback, as well as a few of my writing peers—who were constantly reaching out and reading my drafts with such care—to those few people I am incredibly grateful!

What's been your favorite part of the Div III process or biggest moment of growth and learning?
There are so many things that I've taken away from this journey, it's hard to pick. I definitely think my favorite thing would still be the writing workshops. There's truly no space like a writer's workshop at Hampshire. And I see in these workshops how much Hampshire students love and care for each other, for the work we do, for learning and growing.

Describe Hampshire in one word.
Inspiring!
1