Freedom Sounds: Celebrating Creative Voices in Jazz Today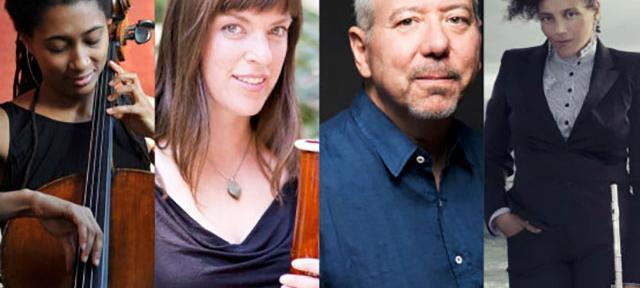 An Artist Residency at Hampshire College, November 29–December 1, 2018
Flutist Nicole Mitchell, cellist Tomeka Reid, and basson-player Sara Schoenbeck will be artists in residence at Hampshire College Thursday, November 29 and Friday, November 30. They will work with Hampshire and Five College students and speak about their creative work. Joining this residency will be Ingrid Monson, Quincy Jones professor of African American music at Harvard University.
The residency will conclude with a concert at Hampshire College on Saturday, December 1, by Duende Winds, the quartet of Hampshire College Professor of Jazz and Contemporary Music Marty Ehrlich, Nicole Mitchell, Tomeka Reid, and Sara Schoenbeck, presented as part of the Pioneer Valley Jazz Shares series.
Schedule of Events
Thursday, November 29
12 p.m. Meet the Artists Luncheon
A Hampshire First-Year Student Event
Hampshire College, Music and Dance Building, Common Area
3–4 p.m. Workshop with Tomeka Reid
Mount Holyoke College, Pratt Hall, Room 109
7–9 p.m. Music Improvisation Workshop
Open to all Hampshire and Five College students
Hampshire College, Music and Dance Building, Recital Hall
 
Friday, November 30
1–4 p.m. Symposium with our Artist/Scholars
Hampshire College, Music and Dance Building, Recital Hall
1 p.m. Dr. Yusef Lateef and the Autophysiopsychic Quest
A talk by Professor Ingrid Monson of Harvard University on the work of NEA Jazz Master and Distinguished Five College Professor Dr. Yusef Lateef (1920–2013)
2 p.m. Nicole Mitchell's Xenogeneisis Suite: A Tribute to Octavia Butler
Professor Mitchell will speak of the influence in her work of Octavia Butler and Afro-Futurism.
3 p.m. A panel discussion with our visiting artists, led by Professor Monson, on their work and current artistic directions and social issues in jazz today, followed by a Q and A.
 
Saturday, December 1
10–11 a.m. Workshop with Sara Schoenbeck
Amherst College, Arms Music Center, Room 7
7:30 p.m. Duende Winds Concert
Marty Ehrlich (reeds), Nicole Mitchell (flute), Tomeka Reid (cello), and Sara Schoenbeck (bassoon), presented as part of the Pioneer Valley Jazz Shares series.
Admission $15; Hampshire students FREE with student ID
Hampshire College, Music and Dance Building, Recital Hall

This Artist Residency is made possible by funds from the Gross Family Fund in honor of Dr. Yusef Lateef, The Hampshire Music Program, The Presidents Office, The Hampshire First Year Program, Macarthur Faculty Grant, The Five College Lecture Fund, and Pioneer Valley Jazz Shares.
The Artists
Nicole Mitchell is an award-winning flutist, composer, poet, conceptualist, bandleader, and educator. Having emerged from Chicago's innovative music scene in the late 90s, her artistic work celebrates contemporary African American culture and is centered in the belief that art has the power to be transformative. She writes, "Jazz is a globalized, African-American freedom vehicle." A Doris Duke Artist and recipient of the Herb Alpert Award, Mitchell is renowned as founder of Black Earth Ensemble and the first woman president of the Association for the Advancement of Creative Musicians (AACM). Her primary inspiration was her mother, Joan Beard Mitchell, a self-taught Afrofuturist writer and visual artist and an early member of the Black Folk Art Gallery of Syracuse. Mitchell celebrates endless possibility by "creating visionary worlds through music that bridge the familiar with the unknown." She works to raise respect for the improvised flute, to contribute her original voice to the jazz legacy, and to continue the bold and exciting directions that the AACM has charted for decades. As a composer, she has been commissioned by the French Ministry of Culture, the Chicago Museum of Contemporary Art, the Newport Jazz Festival, the Art Institute of Chicago, the French American Jazz Exchange, Chamber Music America, the Chicago Jazz Festival, International Contemporary Ensemble (ICE), and the Chicago Sinfonietta. As a flutist, she has developed a unique improvisational language and has been repeatedly awarded "Top Flutist of the Year" by Downbeat Magazine Critics Poll and the Jazz Journalists Association (2010–2018). Mitchell's newest work with her Chicago-based Black Earth Ensemble explores intercultural collaborations utilizing improvisation. Bamako*Chicago, featuring Malian kora master, Ballake Sissoko, made its American debut at Chicago's Hyde Park Jazz Festival in September 2017. Her project Mandorla Awakening (FPE 2017), was cited the #1 jazz album in the New York Times. Black Earth Ensemble is celebrating its 20th Anniversary in 2018. Mitchell is a Professor of Music at University of California, Irvine, where she is a core faculty member of PhD program in Integrated Composition, Improvisation, and Technology. She is endorsed by Powell Flute.
Ingrid Monson is Quincy Jones Professor of African American Music, supported by the Time Warner Endowment. She is a noted jazz scholar and ethnomusicologist with a lifelong interest in the relationships among music, race, aesthetics, and politics. Her book, Freedom Sounds: Civil Rights Calls Out to Jazz and Africa, addresses these issues in the jazz world of the 1950s and 1960s. She is also author of Saying Something, which concerns the interactive and communal dimensions of jazz improvisation as a musical process. Her articles have appeared in Critical Inquiry, Ethnomusicology, Journal of the American Musicological Society, and many other venues. Monson has been awarded many honors including book awards from the Society for American Music, and the International Association for the Study of Popular Music, a Guggenheim Fellowship, a Radcliffe Institute Fellowship, and a Stanford Humanities Center fellowship. She is director of the Jazz Initiative at the Hutchins Center for African and African American Research, which has overseen the acquisition of the archives of pianist Randy Weston in 2016, and the production of Timeless Dreams and Portraits: A Festival/Symposium in honor of Geri Allen in 2018. Monson is a former chair of the Department of Music and served as an Interim Dean of Arts and Humanities. Monson also served as an expert witness for the Marvin Gaye family in the high profile Blurred Lines copyright infringement case in 2015. Monson's secondary interest in the music of Mali, which has led to her forthcoming third book The Voice of Kendougou, about virtuosic Malian balafonist Neba Solo. Her next project addresses the history of copyright and economic inequality in African American music. She earned her Ph.D. and M.A. in Musicology from New York University, her B.M. from New England Conservatory of Music, and her B.A. from the University of Wisconsin-Madison in Economics.
Recently described as a "New Jazz Power Source" by the New York Times, cellist and composer Tomeka Reid has emerged as one of the most original, versatile, and curious musicians in the Chicago's bustling jazz and improvised music community over the last decade. Her distinctive melodic sensibility, usually braided to a strong sense of groove, has been featured in many distinguished ensembles over the years. Reid has been a key member of ensembles led by legendary reedists like Anthony Braxton and Roscoe Mitchell, as well as a younger generation of visionaries including flutist Nicole Mitchell, singer Dee Alexander, and drummer Mike Reed. She is also a co-leader of the adventurous string trio called Hear in Now, with violinist Mazz Swift and bassist Silvia Bolognesi. Reid released her debut recording as a bandleader in 2015, with the eponymous recording by the Tomeka Reid Quartet, a lively yet charged debut album that is a vibrant showcase not only for the cellist's improvisational acumen, but also her knack for dynamic arrangements and her compositional ability. Reid grew up outside of Washington D.C., and her musical career kicked into gear after moving to Chicago in 2000 to attend DePaul University for graduate school. Her work with Nicole Mitchell and various Association for the Advancement of Creative Musicians-related groups have proved influential to the young musician. By focusing on developing her craft primarily as a side person and working in countless improvisational contexts, Reid has achieved a stunning musical maturity. Reid is a 2016 recipient of a 3Arts award in music and received her doctorate in music from the University of Illinois, Urbana-Champaign in 2017.
The Wire magazine places bassoonist Sara Schoenbeck in the "tiny club of bassoon pioneers" at work in contemporary music today, and the New York Times has called her performances "galvanizing" and "riveting, mixing textural experiments with a big, confident sound." 
Originally from California, Sara spent her time on the west coast freelancing in a broad spectrum of ensembles from Dakah Hip Hop Orchestra and the Mancini Orchestra to the Santa Barbara Symphony. Sara also recorded for various sound and film projects including The Matrix 2 and 3, Dahmer, and Spanglish. She now calls Brooklyn home and is active in the creative music community in New York and beyond. She is currently a member of Anthony Braxton's 12+1(tet) and Tri-Centric Orchestra, Wavefield ensemble, Peter Kotek's SEM, Wayne Horvitz's Gravitas Quartet, Harris Eisenstadt's Golden Quartet, Nels Cline Lovers Orchestra, and Wet Ink composer collective. Sara has performed at major venues and festivals throughout North America and Europe including Newport Jazz Festival, Carnegie Hall, Lincoln Center out of doors, the Guggenheim, Disney Hall, SXSW, New Orleans Jazz Festival, Tempere Jazz Festival, Berlin Jazz Festival, Biennale Musica in Venice Italy, Ottawa Jazz Festival, Vancouver Jazz Festival, and the San Francisco Jazz Festival. Sara received her BFA from the San Francisco Conservatory of Music and MFA from the California Institute of the Arts where she has given master classes on improvisation for bassoonists and classically trained musicians. She is currently on faculty at Brooklyn Conservatory of Music and Packer Collegiate Institute.
1