Hampshire College Events: October and November 2016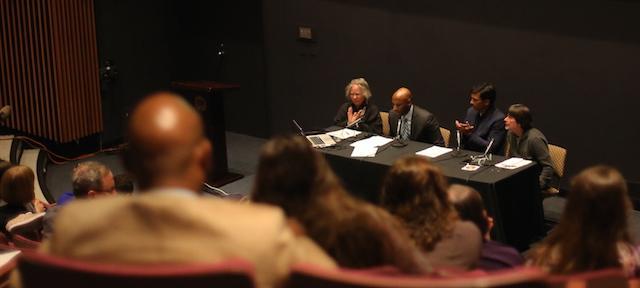 Hampshire College will host a diverse array of events in October and November ranging from performances by our acclaimed theater department, dance performances, the annual Eqbal Ahmad Lecture and Symposium, and more. For future inclusion in events articles, please e-mail your event information to communications@hampshire.edu.
Surfacing: Video works by Madeleine Altmann in the Hampshire College Art Gallery, October 12-November 10
Merging internal and external landscapes, Madeleine Altmann's (81F) video works present a series of familiar surfaces made strange. Altmann tracks personal paths through places imbued with centuries of cultural and historical significance, most notably Massachusetts' well-trodden Transcendentalist tradition. More info on Gallery Page.
A Girl's Life By Kathleen Tloan in the Main Stage Theatre, Oct. 18-23
A Girl's Life is a coming of age story centered on a family full of contradictions, where the whole family is caused to question their understandings of faith, morality, and family. For ticket information, e-mail hctboxoffice@gmail.com.
Design and Chance dance performance in the Main Dance Studio Theater, Oct. 21 at 8 p.m.
The program will show audience members how a dance piece is made, as a group of current Hampshire students, alumni, and teenagers from Amherst Regional High School's Dance Ensemble will allow their choreographic processes to collide and develop live, with input from the audience. The evening will culminate in a performance of the work that the audience has helped to quilt together. Reservations are recommended and may be made by calling 413.559.5889 or emailing HampDanceReservations@gmail.com. $5 minimum donation. Handicapped Accessible.
 
---
Looking Back, Moving Forward, October 24-28
The week of October 24 will be dedicated to study, reflection, and discussion about our work on campus and in society to undo racism and support communities of color. A full schedule of events is available here.  The Week's Events Include:
Timeline Talk with Mary Bombardier and Beth Mattison, October 25 from 10:30 to 11:30 a.m. in the Airport Lounge
Beth and Mary will speak to their experience with white solidarity within racial justice organizing at Hampshire and in the Five Colleges.  Mary Bombardier is the assistant dean for Community Engagement and director of Community Partnerships for Social Change. Beth Mattison, assistant director of the Childhood, Youth, and Learning Program, is a Hampshire alum who participated in student organizing on campus that included efforts to increase the recruitment and retention of students, staff and faculty of color at Hampshire in the mid 80s.
Annual Eqbal Ahmad Lecture in the Robert Crown Center, October 25 at 4 p.m.
The College's annual Eqbal Ahmad lecture, this year titled "Life in a Penal Democracy: Race, Policing, and the Limits of Liberal Reform." It's open to the public, and will be delivered by two educators, Naomi Murakawa, associate professor of African American studies at Princeton University and Khalil Gibran Muhammad, professor of history, race, and public policy at Harvard Kennedy School and the Suzanne Young Murray Professor at the Radcliffe Institute.
Public Talk: "Resisting Racial Violence," in Franklin Patterson Hall, Main Lecture Hall, October 26 at 10:30 a.m.
Hampshire alum Cara Page, from the Audre Lorde Project, an LGBTQ organizing center based in New York City, and Charlene Carruthers, of Black Youth Project 100, a Chicago-based organization of 18- to 35-year-olds will speak at this event.
Timeline Talk: "Dis-Orientation" by J.D. Stokely, Airport Lounge, October 27 at 9 a.m.
J.D Stokely (07F) is a Hampshire alum who participated in the 2008 Action Awareness Week events and protests. Stokely will speak about organizing this week and their creation of the Disorientation Packet, a history of social justice and anti-racism organizing on Hampshire campus.
Timeline Talk: "Decolonizing Media" by Aurelis Troncoso and Dre Woodberry, Airport Lounge, October 27 at 5:30 p.m.
Dre and Aurelis are Hampshire alums and Baldwin Scholars who, as members of the Hip Hop Collective and the Decolonizing Media Collective, participated in the Yurt Takeover on April 26, 2012. Pizza will be available.
Looking Back, Moving Forward, West Lecture Hall, October 28 at 11 a.m.
Facilitated by Lori Lobenstine from the Design Studio for Social Intervention, this closing session examines the themes articulated by participants in the "Looking Back, Moving Forward" interactive exhibit and develops the next steps in this year's work of shaping an institution committed to anti-racism.
 
---
Hampshire Alum, Entrepreneur Liz D'Aloia Speaks in Franklin Patterson Hall, Room 103 October 27 at 2 p.m.
D'Aloia 83F is the founder of HR Virtuoso, a company that creates streamlined, cost-effective mobile recruiting tools for companies. Prior to launching HR Virtuoso, D'Aloia rose through the ranks of transportation, retail, and mortgage companies as a Senior Employment Attorney and VP of Human Resources.
Hampshire Alum, Author, Craft Brewer Dick Cantwell Speaks in Franklin Patterson Hall Faculty Lounge November 1 at 2 p.m.
Dick Cantwell 74F turned his love for true craft beer--and keeping it local--into an unexpected journey that led to one of the most successful and highly regarded brew pub enterprises in Seattle. With two partners, he co-founded Elysian Brewing Company in 1996 and was the award-winning head brewer there until its sale to Anheuser-Busch, in 2015, over his anti-corporate dissent. He is also an author of three books on enterprise and craft brewing, supports literacy in Seattle, and is now the widely respected Quality Ambassador for the Brewers Association while considering his next enterprise. 
Art&Tech: Q&A with Madeleine Altmann and Andreas Uthoff in Hampshire College Art Gallery November 3 at 4 p.m.
Want to hear the personal significance behind the mesmerizing piece Black Ice, or how to minimize the glare when you're filming on a reflective surface? Curious as to why Temple Rock is installed like a portable altarpiece? Need 10 top tips for repurposing a Raspberry Pi for your own video work? Join us at the Gallery with your questions! The Hampshire College Art Gallery will be open from 5 to 8 p.m., with a special exhibition tour with Madeleine Altmann and Amy Halliday at 6 p.m. Cider and donuts will be served.
Local Food Entrepreneur, Alum Molly Merrett Speaks in Franklin Patterson Hall Room 104 November 9 at 1 p.m.
Merrett 02F is the chef and owner of Beets and Barley, a local vegetarian catering service. After running her own farm, she entered the catering business with the goal of creating delicious food while strengthening the local food system using local and organic ingredients.
Trans Symposium: Trans Futures in Franklin Patterson Hall November 19
As a community, trans people are often disjointed and experience a lot of tragedy. Even at Hampshire within the last year, we have experienced multitudes of violences and aggressions from all different sources, and will likely continue to feel this. But, in the face of that knowledge, we are asking: How and where and when do we move forward to build and strengthen ourselves for our futures? Event features keynote speaker Ruby Corado, a Washington D.C. activist. More info here.
The 25th Annual Putnam County Spelling Bee By Rebecca Feldman, with music and lyrics by William Finn, produced with permission from Music Theatre International. Studio Theatre Nov 30-Dec 4, 2016
What happens when six unique middle schoolers come together to compete in the 25th Annual Putnam County Spelling Bee? Pure pandemonium! Spelling Bee follows our six spellers as they face the triumphs and tribulations of moving through adolescence. With a hilariously unforgettable score and plenty of juice boxes to go around, this musical is sure to have you on the edge of your seat as you cheer for your favorite quirky speller. For ticket information, e-mail hctboxoffice@gmail.com.
1