Hampshire a Top Producer of Fulbright Scholars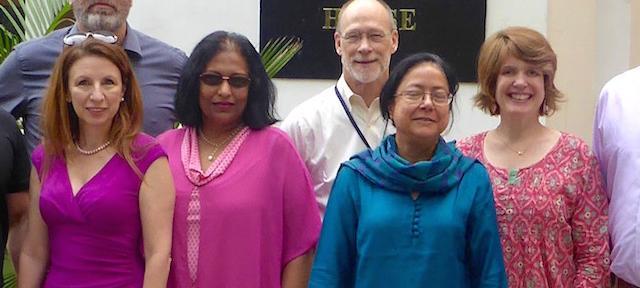 The U.S. State Department and the Chronicle of Higher Education have named Hampshire College a top producer of Fulbright Scholars for 2016-17. Hampshire is one of 11 bachelor's institutions to receive the designation this year.
Hampshire qualified for the recognition after two Hampshire employees received Fulbright Scholar grants the past year. Byron McCrae, vice president for Student Affairs and Dean of Students, was selected to attend the Fulbright International Education Administrators Program in Germany, and Katie Irwin, director of Global Education, took part in the same program in India. The program enables administrators to attend seminars in host countries, learn about international education systems, and exchange learning with educators from across the US and overseas.
For the Fulbright seminar in Germany, McCrae received an overview of the German university system, toured German universities, and met with a range of educators. "Highlights for me included a visit with researchers and scholars at the Max Planck Institute for Religious and Ethnic Diversity, a tour of the Max Planck Institute on Solar System Research," McCrae said, "and an introduction to Avicenna-Studienwerk, a scholarship and leadership program for Muslim students in Germany."
In India, Katie Irwin visited more than a dozen universities and programs and three cities – Delhi, Mumbai, and Bangalore. "As Director of the Global Education Office I felt it was essential to develop an understanding of higher education in a non-Western context," Irwin said. "I'm hopeful this will lead to future collaborations with institutions and individuals I met. I came away with a greater understanding of higher education in India, strengthening my ability to advise students interested in studying abroad there."
Over the past four years, half a dozen Hampshire faculty, administrators, and staff received these prestigious Fulbright Scholar awards for international exchange.
Two years ago, Hampshire was recognized as a top Fulbright producer in another category — under the Fulbright U.S. Student Program, through which recent graduates teach and lead research overseas. Over the past four years, 11 Hampshire young alums have been awarded Fulbright Student Program Grants. See reference links below to read about Hampshire's recent grantees. (One award, to Leanna Pohevitz to teach in Turkey this academic year, was cancelled when the US State Department determined the country unsafe to host US students.)
YOUNG ALUMS ARE INVITED TO APPLY THROUGH HAMPSHIRE
The next Fulbright U.S. Student Program's application period opens this March for grants beginning in late summer/fall 2018.
The program is open to Hampshire College alums and current students who fulfill the eligibility requirements: An applicant must be an American citizen, have a bachelor's degree or its equivalent by the start of the grant, have no more than five years' professional experience, and not have earned a doctorate.
The Fulbright Program is advised at Hampshire by Rachel Rubinstein, dean for Academic Support, and Carin Rank, director of Career Options.
For more information, visit https://www.hampshire.edu/corc/fulbright-us-student-program.
REFERENCE LINKS
View the 2016–2017 Top-Producing Institutions of Fulbright Scholars
View the full list of grantees for 2016–17 in the Fulbright Scholar Directory.
Read about Hampshire's past award recipients:
https://www.hampshire.edu/news/2016/06/01/three-hampshire-graduates-receive-2016-17-fulbright-awards
https://www.hampshire.edu/news/2015/02/11/hampshire-college-is-a-top-producer-of-us-fulbright-students
https://www.hampshire.edu/news/2015/05/12/luna-goldberg-receives-fulbright-award
https://www.hampshire.edu/news/2016/04/08/chemistry-professor-expands-research-on-mummies-and-toxic-metal-contamination
https://www.hampshire.edu/news/2013/03/07/fulbright-us-scholar-award-for-hampshire-professor
https://www.hampshire.edu/news/2014/09/09/fulbright-nehru-distinguished-chair-for-betsy-hartmann
1