How To Build A Non-Toxic Net-Zero Living Building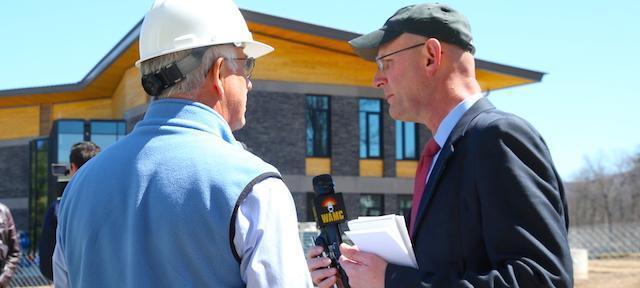 With a ribbon-cutting on April 29, Hampshire College is marking the building of the R.W. Kern Center as a model of sustainability and environmental stewardship, made possible by the Hampshire community: donors including alums who have given $8.9 million and counting to fund it; hundreds of students and employees working with the architects over two years of planning; and builders working for 18 months from groundbreaking to ribbon-cutting. The 17,000-sq-ft center was designed with the goal of certification under the most advanced green building standard, the Living Building Challenge (LBC), which aims to break society's dependence on environmentally harmful practices, to protect not only the environment but also the workers who make the building materials, the tradespeople who install them, and the people who use the building. It aims to compel improvements in the building and construction sector.
The Kern Center is part of the College's broad sustainability initiative and its commitment to make campus operations carbon neutral by 2020. The college worked with architects from Bruner/Cott & Associates of Cambridge, Mass., to design a building that supplies its own water and energy on-site, and processes its own waste. Hundreds of Hampshire students, faculty, and staff participated in building design and planning meetings from 2012-14 to inform the building's purpose and programming.
"There are 120 million residential and commercial buildings in the U.S. contributing to our country's greenhouse gas emissions; no strategy to control climate change can succeed without property owners ensuring our buildings be operated and built more efficiently," President Jonathan Lash wrote in his HuffPost College blog in November, 2015. "Buildings in the U.S. use 75% of our country's total electricity and are responsible for 45% of our greenhouse gas emissions, according to the U.S. Energy Information Administration."
The center was also built non-toxic to avoid "red list" chemical products, using materials mainly from local and regional sources to limit the project's carbon footprint. Kern Center builder and Hampshire alum Jonathan Wright, of Wright Builders in Northampton, Mass., says the most difficult challenge of meeting the living building standard was this one, to avoid the use of any toxic "red list" materials or chemicals in construction.
Recent national news of hazardous levels of lead in drinking water in US communities, formaldehyde in flooring products, and building products that don't disclose chemical ingredients are raising public-health fears, and spurring more demand for accountability in the building industry. A new federal CDC study last month recognized that "formaldehyde is a common indoor air pollutant found in almost every home in the US," and that products with elevated formaldehyde increase cancer risk to those exposed.

For its new center, Hampshire committed to avoiding the use of products made with such chemicals as:
Asbestos
Chlorofluorocarbons
Neoprene
Formaldehyde
Hydrochlorofluorocarbons (HCFCs)
Lead
Mercury
Polyvinyl Chloride (PVC)
Wood treatments containing Creosote, Arsenic or Pentachlorophenol.
The Living Building Challenge restricts use of products containing these chemicals because of the risks they pose to humans and the environment. The standard requires each manufacturer disclose product ingredients, and verify none are on the red list.

In building the Kern Center, the team of Wright Builders and Bruner/Cott architects was required to find a source for each material; verify materials were non-toxic, sustainable, and replenishable; and maintain supporting documentation for certification. It fell on the project team to reach out to the manufacturers and in many cases communicate with product chemists to document and verify ingredients. 

More than 800 of the project's building products were vetted in this way, six times the average for a construction project this size.

As a result of these efforts, the Kern Center will be one of the healthiest buildings possible for people to work in and visit, built with a relentless focus on sustainability and stewardship. College President Lash said, "It is a physical embodiment of the college's values, a teaching tool in and of itself. This building helps us see what is possible."

Builder Wright observes that so many of the products we use in modern life come "blister packed, their origins not known." This created a challenge for the team in completing even routine tasks, like finding toxin-free duct tape, and managing the flow of duct tape and all other supplies onto the building site by hundreds of subcontractors.
The builders and designers overcame many obstacles, such as:
Of the five suppliers of sheet rock, it took longer than usual for Wright to find one willing to disclose its material content. Then, after incorrect materials were shipped and installed, they had to be removed and replaced.
The team researched electrical switchgear products from four manufacturers, and settled on a product from one of the world's largest, but the manufacturer wouldn't verify that its product's 5% of undisclosed ingredients was red-list free.
Virtually all wire in the world is made with PVC-coating, Wright said. The team ended up installing as few products as possible in the Kern Center with PVC wires; one product installed was a Mitsubishi heat pump which contains PVC wiring inside its housing, because the team had no other option and the equipment operates superior to all others globally. (The team asked Mitsubishi to eliminate the PVC wiring but to no avail. In a case like this where no red-list-free product is available, LBC asks builders to document that due diligence was undertaken, and to advocate to the manufacturer to green their products.)
The Living Building Challenge™ from The International Living Future Institute is a building certification program, advocacy tool, and philosophy that defines the most advanced measure of sustainability in the built environment possible today. To support builders procuring for LBC projects, the International Living Future Institute maintains a "Declare" program that provides a platform for manufacturers to disclose the chemical makeup of each product and list their product in the Declare public database. 
To further promote stewardship, the Kern Center building team aimed to procure materials from sources in close proximity to the construction site depending on their weight, to reduce environmental impacts from transporting products, and to support local economies.
To achieve LBC certification, all products must be made using responsible industrial practices for sustainable resource extraction and fair labor practices. A prime example, Wright Builders had to guarantee that all wood was certified by the Forest Stewardship Council (FSC), or procured from salvaged sources, and had to document the chain of custody of the wood from stump to project site to negate the possibility of counterfeiting.
Lastly, the LBC standard asks builders to strive to reduce or eliminate construction waste, and to conserve natural resources. Wright and Hampshire's Facilities and Grounds Office worked to divert waste from landfills, and collect recyclables.
The Facilities and Grounds Office provided project management of the construction, and was part of the team ensuring compliance with the LBC standard. The office has been environmentally conscious for decades and is now exploring where the college can adopt the use of Kern's strict materials standard throughout the campus. As Director of Facilities Larry Archey has said, "The Kern Center should not sit or operate independently from the rest of the college, it should be an example of the direction we take the institution." Representing Archey's team, Carl Weber served as project manager for the Kern Center construction.
The building's architects, Jason Forney and Jason Jewhurst of Bruner/Cott Architects & Planners of Cambridge, Mass, said in a joint statement that the LBC challenges architects and builders to stop focusing on making buildings that are merely less bad, and to ask instead, What does good look like? "Good design starts with net positive energy, net positive water, materials that are safe for humans, designs that favor people (not cars), healthy indoor environments, and innate connections to nature," they said.
Scheduled to officially open in the summer, the building will house the offices of admissions and financial aid, welcome areas, classrooms, and social areas for students and campus visitors including a coffee bar. It was built as a living laboratory designed to facilitate and inspire education for its lifetime and is already being used this academic year as the focus of science, mathematics, architecture, and technology coursework.
One project like this would be a project of a lifetime for a builder like Wright. It so happens there are two LBC buildings being constructed on Hampshire's campus at the same time, with Wright Builders responsible for both. The Hitchcock Center for the Environment, a non-profit education center, is moving to the campus and building a new living building environmental education building.
Wright says buying for two projects helped the team to find efficiencies and influence some suppliers to adapt their practices and supply more sustainable products. This is one the aims of the LBC, to develop a successful materials supply chain and economy, one rooted in sustainability.
Hampshire is pursuing a related plan for its campus to go 100% solar for its electricity this year. To complement the Kern Center, Hampshire eliminated a long-standing oval driveway from the middle of its main quad and converted it back into a wildflower meadow, to bring nature and pedestrians back to the center of campus, and also stopped mowing 10 acres of lawn to further reduce CO2 emissions. Hampshire also permanently protected 46 acres of land it owns on the Mount Holyoke Range.
1