'This Just Might Be the Greenest College in the World'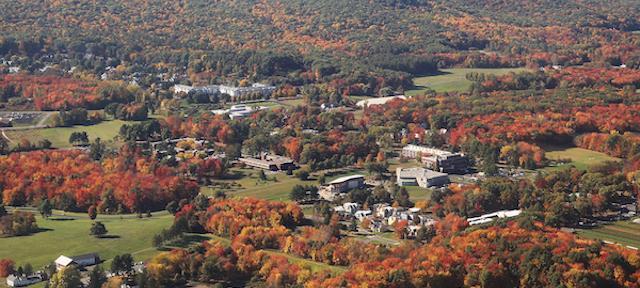 "This Just Might Be The Greenest College in the World" was the headline last month from environmental news site EcoWatch.com about our sustainability efforts, and certainly no college is working harder to be the greenest college.
We're also hoping that higher education will lead all sectors in advancing climate action and renewable energy, and reducing emissions. Hampshire is a signatory to the American College and University Presidents' Climate Commitment, which requires colleges to develop a Climate Action Plan toward operating 100 percent climate neutral.
Two symbols of our progress were recognized recently in national media: One, Going Solar: We're planning to install 19 acres of solar arrays on our 840-acre campus and become the first US residential college generating 100 percent of electricity from on-site renewable sources; and Two, Building a Living Building:  We're constructing our 17,000-square-foot welcome center, the R. W. Kern Center, using the most rigorous green building standard in the world, the Living Building Challenge. (The building's $10.5 million construction is funded through private donations.) 
Here are links to media coverage of our efforts:
Boston Sunday Globe "At Hampshire College, Sustainability Efforts Reach New Levels"
WGBH Public Radio Boston "Going 100 Percent Solar, Hampshire Leads Way In Sustainability"
EcoWatch News "This Just Might Be The Greenest College in the World"
Christian Science Monitor Change Agent Column "A Small New England College Goes 100 Percent Solar"
WNYC talk radio morning show "The President of Hampshire College Wants to Lead By Example"
WHMP radio interview of Dean Steven Roof "Hampshire College's Solar Sustainability"
WPRO news talk Providence "Hampshire College goes solar"
Huffington Post Jonathan Lash blog "Carbon and Values: Change Begins on Campus"
MassLive.com "Hampshire College solar project benefits Amherst"
The Recorder, Daily Hampshire Gazette, Amherst Bulletin "Hampshire College poised to install large solar array"
Daily Hampshire Gazette "Hampshire College's New Building produces own heat, electricity, water"
Associated Press "Hampshire College Living Building Offers Lessons"
Launched in 2011, Hampshire College's Sustainability Initiative focuses on transformations in campus operations, curriculum, food systems, and culture. A gift from Hampshire alum Gary Hirshberg, co-founder and chairman of Stonyfield Farm, and his wife, Meg, propelled the initiative in conjunction with the appointment of prominent environmentalist Jonathan Lash as the college's sixth president.
ARCHIVES OF OLDER STORIES
1