In Year Two, Hampshire's No-SAT No-ACT Strategy Continues to Align Admissions with Mission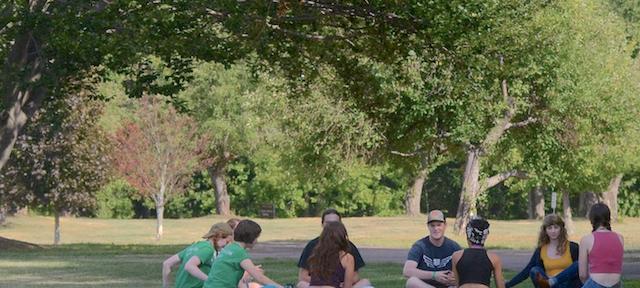 Hampshire College is reporting its second year of results since it stopped accepting SATS and ACTs, and they reveal sustained progress in aligning admissions with the college's mission. Again, the practice disqualifies Hampshire from the U.S. News annual college rankings, as the publisher doesn't have a process for measuring institutions of higher education without standardized test scores.
The College stopped accepting these scores in June 2014 after an internal study of its most successful students revealed that neither the SATs nor the ACTs predicted their success. In making this radical change, the College also cited the bias of these tests against low-income students and the negative influence of standardized testing on education.
This week, Dean of Enrollment Meredith Twombly reported Hampshire's second-year results under this strategy:
• The incoming class is again more racially diverse and includes more students who represent the first generation in their family to attend college than in any year before this policy went into effect.
• Retention of first-year students is again higher than it was before the policy change, 81 percent as opposed to 78 percent two years ago.
• The "yield" percentage of students who accepted the College's offer of admission is again higher than in the years before the policy change.
Regarding the disqualification from U.S. News rankings, Twombly points out those rankings are not based on whether colleges produce successful alums; rather, they measure how well colleges attract high-scoring, high-GPA students, which is influenced in part by the wealth of the schools.
"Standardized test scores have all the value of a broken clock, plus they are biased and cause widespread anxiety for students," Twombly wrote recently in the essay "College Admissions Moneyball." "Many remarkable students whose test scores and GPA fall among the lower 90–95 percent of their class are being shortchanged in the arms race that is college admissions."
Twombly says many colleges are consumed by the competition for rankings and bragging rights and are too quick to bolster entering-class SAT/ACT/GPA data through admissions practices that are harmful to many promising students: "When you see that your U.S. News ranking will improve if you deny more students, then you're tempted to chase more applications though you have no intention of admitting them," she says. "If you see that your U.S. News ranking will improve if you have a higher mean SAT or ACT score, you'll be tempted to chase high test scores, and increasingly give financial-aid dollars to students who don't necessarily need it but have high test scores."
Twombly explains the College's new direction in a YouTube video, "Why We Don't Accept SAT/ACT Scores."
Hampshire remains in the top 1.4 percent of American colleges as measured by the number of alums who go on to earn the highest degree in their field, according to National Science Foundation data released earlier this year. Hampshire also placed in the top 10 of Forbes's list of most entrepreneurial colleges based on LinkedIn data of alums who run their own ventures, organizations, and businesses or are self-employed.
A recent example of Hampshire's success as a consequence of admitting promising students independent of test scores is detailed in President Jonathan Lash's latest Huffington Post essay, "A Study in Project-Based Learning," about a group of students who this summer, after only their first year at Hampshire, outperformed teams of graduate students from much larger research universities in a national ecological-design competition. Lash points out that professors at Hampshire never give grades and instead evaluate student work using narratives, which are exponentially more formative and informative for learning, giving students constructive feedback they can learn from and act on. He writes, "Students learn best — not when they are taught or lectured at — but when they are given independence to direct their own learning under the guidance of teachers; when education is not imposed, but is active."
Hampshire's outcomes also reveal that 89% of our alumni report receiving a job offer within one year of graduation, and two-thirds of our alums earn advanced degrees within ten years of graduating. Hampshire publishes other student outcomes here.
When high school students in their applications were asked "Is there anything you'd like to share about your Hampshire admissions experience?" says Twombly, their responses helped confirm that the College's practices are having a positive effect. Here's some of what they had to say:
• "Hampshire made me feel optimistic about the admissions process because I knew that no matter what, I wasn't going to be judged by a vague SAT or ACT score. I hope that Hampshire's approach to the admissions process is adopted by other colleges."
• "Hampshire was the most individualized and personal experience."
• "It was such a humane and compassionate process. I applaud the admission team at Hampshire."
• "Thank you for treating me as a whole person instead of a stat."
• "You guys did an amazing job personalizing my experience. Out of all the colleges I applied to, you were the only ones who made me feel as if you wanted me as a person instead of just money."
Twombly acknowledges that risk is inherent when making a major policy change because it makes the environment less predictable. This explains why many colleges are averse to risk and innovation, she said, in any area that has an impact on enrollment. Hampshire projected a decline in enrollment as it becomes more selective and admits only students who are a good fit for the College, as well as a short-term budget deficit for the same reason. Indeed, a decline in enrollment this year resulted in the College's decision to leave 15 employee positions unfilled and the board of trustees contributed $1.3 million to balance the budget.
"We entered into this with our eyes wide open and we're very willing to ride out a couple of bumpy years as we get a better handle on yield and retention projections," Twombly said. "We're thrilled with the outcomes of the policy thus far, and will stay the course."
Last September, President Jonathan Lash announced the results of the College's first year of no-SAT, no-ACT. Since then, Hampshire's strategy has been reported widely, including:
1