Student Life Staff
Survey Results
Principles of Discourse
The dean of students office and the division of student life provide programming, resources, and an array of services to help facilitate student development and student success; support and cultivate a rich learning environment; and encourage community building at Hampshire College.
The staff in the dean of students office is available to meet with students to provide individual guidance or support, as well.
Learn more about Student Life
Division of Student Life Mission Statement (pdf)
The dean of students office is located on the second floor of the Merrill Student Life Center.
---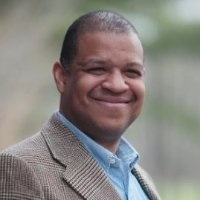 Vice President for Student Affairs and Dean of Students
Byron P. McCrae
413.559.5412
bmccrae@hampshire.edu
The dean of students is the chief student affairs officer and is responsible for overseeing the division of student life, including:
Dean McCrae has served as vice president and dean of student life at Washington & Jefferson College in Pennsylvania and as associate vice president for student affairs at San Francisco Art Institute in California. He has also been a member of the student affairs staff at Sarah Lawrence College. McCrae holds a doctorate in educational leadership, administration, and policy from Fordham University, as well as a master's in higher education from Syracuse University and a bachelor's degree in communications arts from Salisbury University. Dean McCrae joined the Hampshire community in 2013.
---

Associate Dean of Students
Pam Tinto
413.559.5751
ptinto@hampshire.edu
The associate dean of students supports a variety of areas within student life, including: campus leadership and activities; new student programs and the orientation program; transfer student life; and the annual Ingenuity Awards honoring students. She also takes a lead role in developing initiatives to support the development of student life as a division, working to create opportunities for education and collaboration for staff throughout the division. She is also an active member of the Hampshire Environmental Committee and the Food, Farm, and Sustainability Advisory Board. Dean Tinto has been a member of the Hampshire College staff in this position since 2008. Prior to that, she was a member of the residence life staff from 2000-2006.
---

Assistant Dean of Students and Director of Campus Leadership and Activities
Gretchen LaBonte
413.559.6666
glabonte@hampshire.edu
The assistant dean of students and director for campus leadership and activities works with the College's 100+ student groups in support of student activities and events. She oversees the office of campus leadership and activities, which organizes Signer Seminar (student leadership training), Hampfest (student activities fair), and the student group recognition and approval process. The assistant dean also advises the HSU, the student government association and FundCom, the financial committee. Additionally, she manages the Prescott Tavern, a study and social space on campus, and the TavernArt Gallery. Dean LaBonte joined the Hampshire community in November 2014.
---

Student Life Coordinator
Shannon Da Silva
413.559.4510
sdasilva@hampshire.edu
As the Student Life Coordinator, Shannon is responsible for managing initiatives designed to enhance the work of the dean of students office and the student life division. Shannon provides administrative and strategic support to the dean of students, including managing the various budgets and supervising the administrative staff and student employees. Shannon is also a member of the Title IX team at Hampshire College, meaning that any cases of sexual assault, sexual harassment, dating violence, stalking, or anything that fits under Title IX involving students is reported to her for follow up. Shannon joined the Hampshire community in September 2014.
---

Dean of Students Office Assistant
Frances Arnold
413.559.5412
farnold@hampshire.edu

Frances supports the daily activity of the dean of students office. She manages the office's purchasing, filing systems, deans' calendars, and correspondence, and provides logistical support to the deans in the planning and management of office events. Frances Arnold joined the Hampshire community in July 2013.
Student Life Staff
Survey Results
Principles of Discourse