Culture, Brain, and Development Program to Celebrate 15th Anniversary at Family & Friends Weekend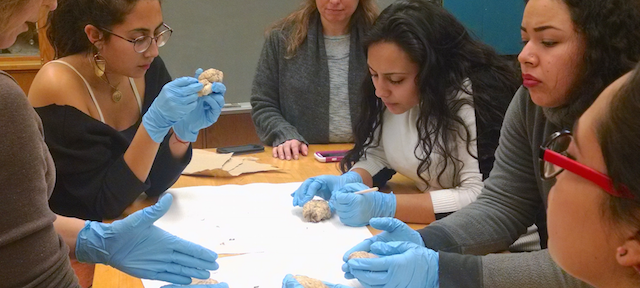 Hampshire College is celebrating the 15th anniversary of Culture, Brain, and Development (CBD) and its substantial support of student and faculty work at the intersections of culture, mind/brain, and human growth and development. A birthday party on Saturday, October 20, from 3:00 to 5:30 p.m., during Family & Friends Weekend, will feature CBD grantees past and present talking about their projects that were funded by the CBD Student Research Grant Program. A festive, informal reception open to the entire Hampshire community follows.
Through the years, CBD has funded the development of some 100 courses, supported thousands of students, and awarded grants totaling $368,000 to 260 of them. CBD's programs and activities bring together faculty and student scholars for collaboration and the exchange of research and ideas. At the core of the program is the idea that human beings are both thoroughly biological and thoroughly cultural creatures, and that both of these forces interact and influence our development, growth, and activities.
The program's cornerstone is student research. CBD annual grants, currently totaling about $45,000 a year, give Hampshire students an unparalleled opportunity to pursue their research working with scholars in many fields and at research sites and laboratories across the globe. Hampshire is unique in higher education for funding such undergraduate research through direct competitive grants to students, who then present their research at conferences and in publications. The CBD program is a key component of this commitment:
Among CBD activities are:
A robust weekly student group open to students from all five Hampshire schools

Lectures and workshops by visiting scholars, as well as Hampshire faculty and alums
A CBD Living Learning Community, in which first-year students with shared interests live in the same residence hall and meet regularly with CBD staff and Steering Committee members for learning opportunities and community-building
Faculty and staff mentorship for student research and projects
The Event Related Potential (ERP) Lab for brain-imaging neuroscience research
The Neuroendocrinology and Behavior Lab
Networking among CBD scholars, alums, students, faculty, and staff
Overseen by Director Pamela Stone 86F, the program has planned a number of anniversary-year events and has launched Fifteen & Forward, a five-year fund-raising campaign to complete the endowment of CBD's Student Research Grant Fund. CBD seeks to increase its endowment to $1 million from its current level of just over $500,000, to ensure continued financial support for student research and projects.
The Culture, Brain and Development program was created in 2003 with a generous gift from Hampshire alum and psychological anthropologist Robert Lemelson 79F, through his Foundation for Psychocultural Research. One of the great strengths of a Hampshire education, he says, is an emphasis on thinking across boundaries, fields, and domains to create "new ways of knowing." After establishing a graduate center in Culture, Brain, and Development at UCLA, his home institution, he moved to create a similar center on the undergraduate level at Hampshire.
"In the fifteen years since the Culture, Brain and Development program has been running at Hampshire, there has been a marked increase in interest and research in interdisciplinary work, leading to new subfields such as cultural neuroscience and neuroanthropology," Lemelson says. "Hampshire's CBD program has been training students with the conceptual tools and models to engage such new and exciting research opportunities and continues to be one of the leading programs in the world in which this sort of work can be taught and practiced on the undergraduate level."
In the program's first five years, Barbara Yngvesson, now professor emerita of anthropology, and Neil Stillings, now professor emeritus of psychology, collaborated to develop CBD's vital, campus-wide program. Program Coordinator Paula Harmon and the founding steering committee were also key to expanding and defining the program in those early years.
Yngvesson says that as founding director, she had the privilege of working with a group of talented and dedicated colleagues and students to develop what has become one of Hampshire's most exciting and innovative cross-disciplinary programs. "Our goal was to sharpen our understanding of human development by working at the frontiers of neuroscience, physical anthropology, cultural anthropology, and developmental psychology," she says, "and to reconceptualize development as a process —collective and individual, historical and contemporary — that implicates body and mind and requires that both biology and culture be taken seriously."
Director Stone adds that by grappling with data, creating models, and developing new methodologies, CBD's work has aimed to expand and understand what it means to be human. "As we look to the next fifteen years," she says, "CBD-supported research will continue to unpack, rethink, renew, and dig deeper to understand our brains, bodies, and cultures and the complexity of human experience, our humanity."
One of the hundreds of students supported by the program is Aaron Lindeke-Myers, who received a CBD grant and was a leader of a student group. Now a biomedical researcher and applying to medical schools, he says the program was integral to his undergraduate education and enabled him to see the connections among seemingly disparate topics ranging across science and society.
Lindeke-Myers says the skills developed in the program have helped him in writing essays and interviewing for medical school, where he's been asked to synthesize the connections among social issues, science, and medicine. And he's confident the skills will serve him in his future career, as a physician.
Another student who benefited broadly was Grusha Prasad, who also was a leader of a student group and won multiple grants from CBD: to fund a summer internship at the Center for Language Science, at Penn State; to pursue original ERP brain-processing research that was the basis for her Division III; and to design and conduct a workshop on scientific thinking and neuroscience for eighth-graders in India. "Getting support in pursuing these projects made me feel like no doors were closed for me," said Prasad, now pursuing a PhD at Johns Hopkins. "It taught me to articulate and ask for what I need. And this, I think, is a valuable skill that I've taken with me to grad school."
Supporting faculty in development of courses is also a central program activity. A small sampling of courses developed with CBD funds:
Developmental Psychopathology
Cognition and Society
The Emergence of Literacy
Cognition and Behavior in Domesticated Animals
Evolution of the Human Mind and Brain
Brain, Mind, and Culture
Culture and Biology
The CBD website lists all the courses and students funded by the program.
Over the coming year, CBD will host a series of anniversary programs and events on campus, with details posted on its website and Facebook page.
Find more information here about Family & Friends Weekend, October 19–21, 2018.
GALLERY
1