Hampshire College Events: March-May 2017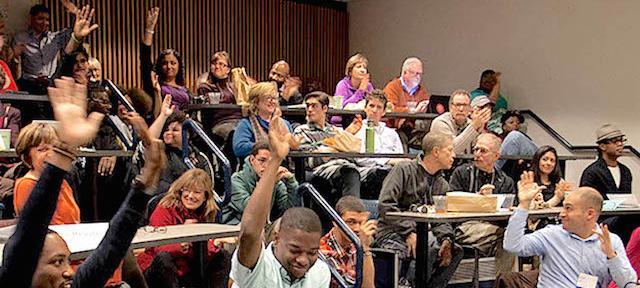 It's peak event season on campus as Hampshire will host an array of events ranging from a talk by noted community activist Iris Morales, the Second-Annual Deaf Studies Conference, the Second-Annual HampHack, student performances, Div III showcases, and our 2017 Commencement. To submit a campus event for inclusion here, please e-mail communications@hampshire.edu.
Jen Everett: Intimitable Blackness March 7-April 30 in the Leo Model Gallery
"Inimitable Blackness" is an ongoing response to the nuances of black identity in America, addressing the desire to commodify and quantify blackness using a lens that often includes disproportionately negative stereotypical tropes. Everett is a photographer based artist from Detroit, Michigan currently living and working in Saint Louis, Missouri. She has received grants from the Saint Louis Regional Arts Commission and has been an artist in residence at the Vermont Studio Center. Recently her work has appeared in SPOOK and Transition magazines.

Power and Memory: 50 Years of Struggle, Shared Legacies of Resistance March 20-April 10 in Harold F. Johnson Library, 1st Floor

This exhibit is an assemblage of images, texts, publications, visuals, audio material, and other ephemera collected to commemorate 50 years since the founding of the Black Panther Party (BPP) in 1966, and 47 years since the founding of the Young Lords Party (YLP) in 1969.

Talk by N.Y.C. Latina Activist Iris Morales, March 22, 7–9:30 p.m., Franklin Patterson, Main Lecture Hall
Educator, filmmaker, lawyer, and activist Iris Morales presents her award-winning documentary, ¡Palante, Siempre Palante!, and will give a talk about and sign copies of her book, Through the Eyes of Rebel Women: The Young Lords, 1969–1976. Both works document the Young Lords Party, a multiethnic though primarily Puerto Rican and Latin@/Latinx liberation organization that sought to address the many socioeconomic needs of their working-class community, including the decolonization of Puerto Rico. (Morales will also present at Holyoke Community College, March 21; Smith College, March 23; and El Mercado restaurant in Holyoke, March 24.) For more information, e-mail Professor Wilson Valentín-Escobar.

Division III Spring 2017 Student Exhibitions March 24-May 5, Main Gallery
Student artists in their final semester at Hampshire College experiment with form and conceptual propositions in a series of solo and group shows.

Deaf Studies Conference, March 25 and 26, Franklin Patterson Hall
The goal of this event, hosted by Hampshire's American Sign Language (ASL) Collective, is to provide a space for all individuals to discover and explore the multifaceted experiences of Deaf lives and to remove barriers between hearing and Deaf communities. Among subjects of workshops and presentations will be Deaf folklore, education, Deafness in the media, poetry, art, and queer identity. The conference is free to all, but registration is required.

Filmmaker/Hampshire Alum Shalini Kantayya Presents Catching the Sun March 28 at 4:30 p.m., Franklin Patterson, Main Lecture Hall
Join Filmmaker and Hampshire alum Shalini Kantayya for a screening of Catching the Sun. Shalini, who studied international human rights and media studies at Hampshire in the early 2000s, will hold a Q&A session following the film. .
Michelle Joan Wilkinson, a curator with the Smithsonian National Museum of African American History and Culture, will visit campus to discuss her book and exhibition, For Whom It Stands: The Flag and the American People, which she curated in 2014 while working at the Reginald F. Lewis Museum, a Smithsonian affiliate. For Whom It Stands is an investigation into the ways artists and others have seized on the flag to narrate pride, prejudice, and protest. 

Questioning Aesthetics Symposium on Black Aesthetics March 31 to April 1 in the Red Barn
Inspired by the recent publication of numerous books on Black Aesthetics from a wide range of disciplines, many of which are provoked by the tragic deaths, incarceration, conditions of inequality, and forms of creative resistance affecting black people today, Monique Roelofs and Michael Kelly are organizing a two-day "Questioning Aesthetics Symposium on Black Aesthetics" at Hampshire College. With the title "Black Aesthetics" we do not assume any one conception of Black Aesthetics or even that there is such a thing, as we understand aesthetics to be critical thinking about art, culture, design, and nature, often in relation to social, political, and moral issues. Five panels with 16 speakers followed by a roundtable for all attendees are designed to explore new questions, models and directions in this vibrant field of inquiry.
Talk on Class Struggle in Black Studies: Tenth-Annual Eric N. Schocket Memorial Lecture on Class and Culture, with speaker Fred Moten, March 30, 5 p.m., Franklin Patterson, Main Lecture Hall
This year's Eric N. Schocket speaker is Fred Moten, the author of In the Break: The Aesthetics of the Black Radical Tradition (University of Minnesota Press). In 2009 Moten was critic-in-residence at In Transit 09: Resistance of the Object, the Performing Arts Festival at the House of World Cultures, Berlin; and was also recognized as one of ten "New American Poets" by the Poetry Society of America. He has gone on to have a distinguished career as a poet, author, and educator. For ten years, from 1996 until his tragic death from leukemia, in September 2006, Professor Schocket was an active and much-loved member of the Hampshire College community. A nationally prominent scholar of American literature (his first book, Vanishing Moments: Class and American Literature, was published in 2006), Professor Schocket wrote primarily on issues of class consciousness and social stratification in America, as seen through and changed by the powerful lens of literature. The annual Schocket Memorial Lecture on Class and Culture was established to honor his memory and to further the field to which he was so devoted.
"Islamophobia and Its Discontents," a panel discussion, April 5, 6 p.m., Franklin Patterson Hall, West Lecture Hall
Hampshire's Creative Writing Program, South Asian Studies, the Eqbal Ahmad Initiative, and their cosponsors announce "Islamophobia and Its Discontents," a panel discussion. It will feature Pakistani American filmmaker Mara Ahmed, whose talk is titled "Being Muslim in America." She will be joined by Professors George Fourlas (philosophy), of Hampshire, who will address Islamophobia as racism; and Mehammed Mack (French and comparative literature), Smith College, who will speak on Islamophobia in France.

The next day, Thursday, April 6, at 5:30 p.m., in the West Lecture Hall, Ahmed will present her most recent film, A Thin Wall — which she wrote and directed — about memory, history, and the possibility of reconciliation. It focuses on the partition of India, in 1947, but its lessons remain urgently relevant today.
Seedling Productions in Collaboration with the Hampshire College Theatre Presents The New Canadian Kid, April 6–9, Main Stage Theatre
Nick, a child from an imaginary country called Homeland, moves with his family to another country and must grapple with the changes of immigration — learning a new culture and language, making friends, and dealing with discrimination — while trying to maintain his cultural roots.  For ticket information, e-mail hctboxoffice@gmail.com.
AGAIN: Moving into a Movement, a Hampshire College Division III Dance Concert, April 6–8, 8 p.m., Main Dance Studio Theater
The Hampshire College Dance Department presents an evening of dance featuring the culminating thesis works of graduating students Narieka Masla, Rikkia Pereira, and Julia Warren, performed by Five College students and community members. AGAIN: Moving into a Movement is a Div III dance production that expresses the embodied research of loss, relationship, and self. Please join us as we explore what it means to move into a movement together. Tickets: $5 general admission; $3 for students and seniors. Reservations: 413-559-5889 or hampdancereservations@gmail.com
2017 CLPP Conference: From Abortion Rights to Social Justice: Building the Movement for Reproductive Justice April 7-9
The 36th annual  Civil Liberties and Public Policy (CLPP) conference, From Abortion Rights to Social Justice: Building the Movement for Reproductive Freedom, will take place April 7-9. Participants can connect with amazing student and community activists and learn about the intersections of ‪reproductive justice and other movements. 
First Generation Spring Art Show, April 11-18, Prescott Tavern
The FIRST on the Journey student group is hosting an art show for first generation student artists and their unique identity, with an exhibition opening April 12th.

Jake Lichter Div. III: "October Regimen" April 13 at 8:00 p.m. in the Music and Dance Building Recital Hall
Making Comics (After Hampshire), April 14, 12-2 p.m., Franklin Patterson Hall, East Lecture Hall
An artists' talk featuring two small press comics creators who went to Hampshire: Athena Currier (F06) and Melissa Mendes (F02), moderated by Div III student Emily Carter. Sponsored by the First Year Program, Alumni and Family Relations, and the programs in Humanities, Studio Art, Art History, and Creative Writing. Open to all Five College students. Pizza will be served. Melissa and Athena will also be participating in the weekly Making Comics Meetup on Thursday, April 13, 6-8 p.m., in Kern 202. For more information on either event, email Emily Carter.
2nd Annual HampHack, April 14 and 15, Robert Crown Center
The hackathon invites participants to get together to join a team, tackle problems, and create potentially viable products related to one of a number of themes, such as environmental sustainability, the brain and development, life hacks, and artificial intelligence.
Aidan Owens Div. III: "Different Drummers (Vovovo Vufola): A Musical Celebration of Diversity" April 17th from 6-8 p.m. in the Red Barn
---
Div III Fest theater festival,  April 19–23
This festival is a week of presentations and celebrations of works by Division III theater students, performed or expressed in traditional and nontraditional spaces across campus. Tickets for all shows can be reserved at the door or online at div3fest.brownpapertickets.com. 
the summer i slept through to sunday: A Division III by Kayla Girdner April 19 at 5:00 p.m. in the Lobby of Emily Dickinson Hall
the summer i slept through to sunday is a devised, physical theater piece that explores healing, through a movement-oriented abstraction of conversations. Where does healing happen? How does healing happen? Can it happen at all? What does it take to cycle through healing towards a hopeful growth (?) an almost growth (?) an almost healing (?)
Other show times include:
Thursday April 20, 5:00 p.m.
Friday April 21, 5:00 p.m.
Saturday April 22, 5:00 p.m.
Sunday April 23, 7:00 p.m.
48 North: A Division III by Dani Aldrich on April 19 at 7:00, 9:00, and 10:00 p.m., in Emily Dickinson Hall, MainStage
We are not alone. Humanity has confirmed radio contact with an extraterrestrial species, and the question is no longer if, but when they will visit us.  Set in an abandoned gas station, this audience-immersive piece explores design-driven story telling and the cultivation of fear. Through exploration and interaction with the set, lights. and sound, audiences discover the story of the gas station and the fate of two scientists in their quest to study alien life. Please be advised this show uses small spaces, low lighting, fake blood and the use of a gunshot sound effect.
Other show times include:
Thursday April 20, 8:00 p.m., 9:00 p.m., 10:00 p.m.
Friday April 21, 8:30 p.m., 10:00 p.m.
Saturday April 22, 9:30 p.m.
Sunday April 23, 3:00 p.m., 9:30 p.m.
Exquisite Corpse: A Division III by Emilia Vecchiarelli April 19 at 8:00 p.m. in Emily Dickinson Hall, MainStage
Join us for this beautiful, design-driven exploration of light design and dance, a collaboration of strong femme minds. This movement-based piece is a narration of our everyday lives; through bodies, sound, and light we journey through themes of mental and physical illness, queerness, loss, and love.
Other show times include:
Thursday April 20, 7:00 p.m.
Friday April 21, 7:30 p.m.
Saturday April 22, 7:00 p.m.
Sunday April 23, 2:00 p.m.
10 Items or Less: A Division III by Ford Kelly-Riley on April 21 at 6:00 p.m. and April 22 at 4:00 p.m. in Emily Dickinson Hall, MainStage
A grocery store. A local election for mayor. A murder. A laugh track. Come see how all of these elements come together to form the dark comedy 10 Items or Less! You may or may not be complicit in the action.
Gutless and Grateful: A Division III by Amy Oestreicher April 22 at 5:30 p.m. in Emily Dickinson Hall, MainStage
You never know what you're capable of until you are truly tested. Gutless & Grateful is the musical comedy about surviving life changes overnight. In this one-woman musical, Oestreicher weaves her near-death experience and inspiring perspective through interwoven song and dialogue, comedically highlighting struggles, triumphs and beautiful detours in her life . Featured on TEDx, Huffington Post and NBC's Today Show, the 70-minute musical chronicles "thriving" through a decade of trauma, including an original song written by Kathie Lee Gifford & David Friedman. Oestreicher has been touring her show for five years internationally at universities, theaters, and conferences as a program on mental health education, sexual assault prevention, and leadership development.
Earthen Hymns: A Division III by Dylan Welch April 22 and 23 at 7:00 p.m. in the Roos-Rohde House
 
Fibers: A Division III by Amy Oestreicher April 22 at 8:00 p.m. in Emily Dickinson Hall, MainStage
In the words of the show's creator Amy Oestreicher, "Fibers is a dramatic documentary performance piece, presented as a workshop, based on oral histories I've conducted with various family members from Israel to Prague, Belgium, California, New York, Washington, Chicago, and Florida. It is the story of my grandmother, who survived Auschwitz at 18 years old, the courageous journey of her eight brothers and sisters, and the acts of bravery performed by my great grandfather, who brought the entire family to New York after the war. The piece explores how history and memory is passed down through generations, how trauma affects a family, and the resilience required to survive, thrive, and continue a legacy.  Most importantly, the piece is a testament to my grandmother, a seamstress who, as my uncle Morris said, was the 'right arm' of the family, who created the strong tapestry of fibers that proudly make up who I am."
---
Emma Rothman Div. III: "Listening, Witnessing, Attending" April 24 7:30 p.m. in the Music and Dance Building Recital Hall

Film Screening: The Age of Consequences April 26, 7:30 p.m. in Franklin Patterson Hall, Main Lecture Hall
The first full-length documentary of Climate Change's impact on global stability, as seen by U.S. military and security officials makes its Western Massachusetts premiere. A discussion led by Professor Michael Klare will follow. Free and open to the public.
Jack Corcoran Div 3: "The Authentic Raffle Concert Experience" April 26, 8 p.m., in the Roos-Rhode House
"The Sound For Change" Class Ensemble/ End of Semester concert Tuesday, May 2, 8 p.m., in the Music and Dance Building Recital Hall
Irish Music: Performance and Ethnography End of Semester Concert, May 4 at 7:00 p.m. in Music and Dance Building Recital Hall
Division III Presentation and Performance Showcase, May 19, 1–4 p.m., Franklin Patterson Hall
Enjoy a sampling of Div III projects by Hampshire's graduates. The showcase comprises academic presentations, performances, film screenings, and readings. Schedules are available beginning at noon on May 19 in the Franklin Patterson Hall lobby.
2017 Hampshire College Commencement, May 20, the Library Lawn
Keeanga-Yamahtta Taylor will be the featured speaker at this year's Commencement ceremony. Taylor, who teaches African American studies at Princeton University, is one of the organizers of today's March's International Women's Strike, on International Women's Day. The worldwide day of action was planned by women in more than 50 countries. A Day Without a Woman was a way for women to resist the conditions behind decades-long economic inequality, racial and sexual violence, and imperial wars abroad.
1