"Tastes Like War" is Hampshire College's 2022 Common Read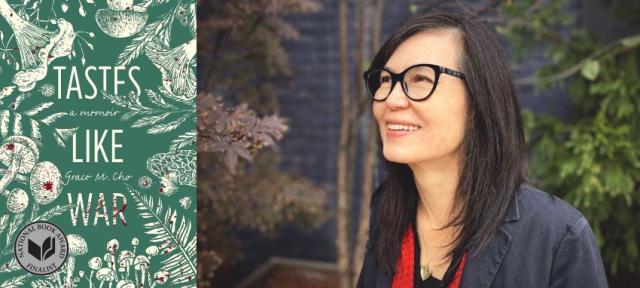 Tastes Like War: A Memoir by Grace M. Cho tackles complex themes of xenophobia, racism, and mental health, through stories of family, cuisine, and culture. 
As part of Hampshire's commitment to centering race and power in the academic curriculum and contributing to the community's understanding of the histories of racial imperialism, the College has selected Cho's Tastes Like War: A Memoir as the Common Read for 2022-23.
The book, published in 2021 by The Feminist Press, is about a daughter's search through intimate and global history for the roots of her mother's schizophrenia. Part food memoir, part sociological investigation, the book centers on Cho growing up as the daughter of a white American merchant marine and the Korean bar hostess he met abroad. Tackling complex themes of xenophobia, racism, and mental health, Cho writes of family, cuisine, and culture. 
Winner of the 2022 Asian/Pacific American Award in Literature, a finalist for the 2021 National Book Award for Nonfiction, and a TIME and NPR "Best Book of the Year" in 2021, this bestseller features "deep compassion and graceful prose," according to Publishers Weekly. 
Cho is also the author of Haunting the Korean Diaspora: Shame, Secrecy, and the Forgotten War, which received a 2010 book award from the American Sociological Association. Her writings have appeared in journals such as the New Inquiry, Poem Memoir Story, Contexts, Gastronomica, Feminist Studies, WSQ, and Qualitative Inquiry. She is associate professor of sociology and anthropology at the College of Staten Island, CUNY.
The Common Read originated as part of the College's annual orientation program for new students. Each year, a Common Read book is selected to be read and discussed together as a community, helping to foster collective learning and interactive dialogues about urgent real-world problems. Students will have several opportunities to discuss the Common Read in their first year at Hampshire, beginning at orientation. 
Learn more from the Common Read resource guide.
1