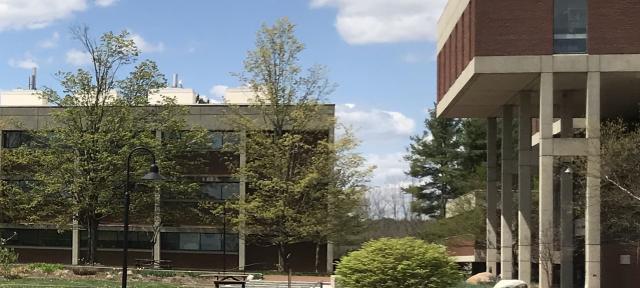 The Covid Response Team (CRT) will continue to monitor and respond to the most up-to-date CDC guidance, health data in Hampshire and surrounding counties, as well as any changes in state or local public health regulations, and adjust campus policy accordingly. Hampshire College remains committed to providing a vibrant, fully in-person educational and social experience to our new and returning students.
>> Hampshire's COVID-19 Higher Education Control Plan
---
Information will be added here as we have it, and is subject to change.
March 11, 2022: No Significant Changes to COVID-19 Policies
Dear Hampshire College Community,

Hampshire College will not be making significant changes to current COVID-19 policies this semester. The measures we have in place have been very effective in minimizing cases on campus while supporting a culture in which our community prioritizes the concerns of the most vulnerable and expressing our commitments to accessibility and disability justice. While many metrics suggest the pandemic may eventually become a manageable, endemic disease, it is not at all clear that point has been reached. As local jurisdictions and institutions relax their pandemic restrictions, it becomes more important that people living and working on Hampshire's campus can do so without further increasing their risk. Moreover, substantial policy changes mid-semester would impose avoidable physical and emotional burdens on our at-risk peers.

While there will be no significant changes to current policies on vaccination, masking, testing, isolation/quarantine, and visitors and guests, we will make some minor adjustments. These policy changes will go into effect on March 25, unless testing results following Spring Break suggest a delay is necessary. There will be three adjustments:
Student artists are permitted to be unmasked while on stage for theater, dance, musical, and other similar performances. Audience members should be seated a minimum of 10 feet away from unmasked performers.
Students may allow guests in their residential rooms to remove their masks as long as the door is closed at all times that anyone in the room is unmasked. Guests may not remove their masks without permission of the person who lives in the room.
People may briefly lower masks while actively eating in public spaces on campus. This policy does not apply in classes or in meetings that are compulsory.
All other policies will remain unchanged. As a reminder, before March 21, 2022, every student and employee of Hampshire College must verify that they have received a booster shot if eligible; students may not continue to attend the College after that date until they have verified their booster status, and employees who are not in compliance will be placed on unpaid leave while their status is reviewed. If you have not verified your booster status, please check your email for further information, as you should have been contacted about this issue.

Ed Wingenbach, President
January 20, 2022: Spring Semester and COVID-19
Dear students, staff, and faculty,
As we anticipate the beginning of the spring semester next week, I want to reassure you about Hampshire's preparations for a vibrant residential experience and in-person teaching and learning. As I have said before, Hampshire College is among the safest places to be in the county, state, or country, and I am confident that will continue to be the case this spring. I know people are working hard to implement new policies while also doing all the normal things necessary to get Hampshire ready for the semester. I am grateful to all of you for your patience, your dedication, and your perseverance. 
We have sent many memos and updates since the end of the fall semester, and our current policies are summarized here. I recognize that it isn't easy to keep track of changing information, as we adapt to evolving guidance and developing research. Today I want to highlight the most significant elements of our planning, and why our campus is well-prepared for the omicron variant. Since last fall, we have increased testing frequency, enhanced masking expectations, mandated boosters, required rapid testing to exit isolation, and adopted stringent campus return policies to mitigate unmasked contact. These enhanced measures will allow us to continue to live, work, and learn together while managing the impact of COVID-19.
Well over 99% of our community is vaccinated, and we expect everyone who is eligible for a booster to get one. We also know that omicron can spread even in a fully vaccinated population. We anticipate that some portion of our students will arrive with COVID-19, and intensive testing will allow us to identify and isolate them, reducing the chance that infectious individuals will be around others. Every student will be tested upon arrival and twice per week during the first two weeks of the semester. Employee testing began January 18, and employees who would like to test twice during the opening two weeks are welcome to do so. 
In addition to requiring vaccination and testing, we've adopted more restrictive isolation protocols than CDC recommendations and American College Health Association guidelines. We also continue to require masks indoors and expect everyone to either double mask or wear a KN95. The College has secured a large quantity of KN95 masks, so every student and employee can access and wear high-grade masks. Finally, during the opening week dining options will be restricted to avoid even that contact between unmasked people, and no off-campus visitors will be permitted in student residences until February 28.
Though some transmission of omicron will occur, the combination of intensive entry testing, use of high-grade masks, and universal vaccination should significantly mitigate any spread. We are proceeding with great caution – our baseline campus policies are equivalent to the CDC's guidelines for vaccinated close contacts – and people have been diligent about following these rules. That vigilance has helped make in-person learning safe, as no COVID cases at the College have been contracted in a classroom. In fact, according to a recent Chronicle of Higher Education article, researchers have "found students are actually less likely to get infected when they have classes to attend in person, where they're expected to wear masks and be vaccinated." We cannot prevent omicron from arriving at Hampshire, but we are able to create the safest possible environment for students and employees to be during this phase of the pandemic, short of isolating at home alone.
I know the omicron surge is unsettling and understand the trepidation many of you are feeling right now. I hope that our commitment to create a safe space to build community and learn together will help ameliorate some of that anxiety, as we journey through this next phase of the pandemic. I look forward to seeing everyone (masked and tested!) over the next few weeks.
Ed Wingenbach
President
January 5, 2022: Spring Semester COVID-19 Policies Update
The COVID Response Team has been evaluating the implications of the recent increase in COVID-19 cases nationally and in our region, and has been monitoring information from public health experts. Based on changes to CDC guidance on quarantine and isolation, as well as an assessment of strategies that are likely to slow the spread of COVID on our campus, we are updating some of our existing policies for the spring semester. These policy changes are effective immediately.
Pre-Arrival Student Testing:
Hampshire College strongly requests that all students test for COVID-19 within three days before their arrival on campus. The test could be either a single PCR test or two at-home antigen tests separated by at least 24 hours.

If you test positive, please inform Health Services at 413-559-5458 or healthservices@hampshire.edu; do not return to Hampshire College until you have met the College's criteria for completing isolation (see below). If you test positive but are unable to stay home, please contact the dean of students for guidance.

You do not need to send documentation of negative test results to the College, but you may upload the results into CoVerified for personal tracking purposes.

If you had a documented COVID-19 infection in the past 90 days, do not re-test with a PCR, as you may continue to have a positive test. Please contact Health Services at 413 559-5458 or healthservices@hampshire.edu if you have any questions.
Arrival Testing for Students:
Upon arrival on campus, every student will be tested as soon as possible and then twice a week during the first two weeks of the semester. Specific details about testing dates are available on the Hampshire intranet.
Campus Dining:
Until at least January 31, there will be no on-site food service allowed at events and activities (grab-and-go is acceptable). Dining Commons seating will be limited to one person per table, and the Kern Kafé and Bridge Café will offer only grab-and-go food. 
Visitors:
No off-campus guests are permitted in student residences until February 28.
Vaccination Definition:
Isolation and close contact requirements differ based on the vaccination status of a student or employee.
Fully Vaccinated: The College defines fully vaccinated as completing an approved COVID-19 vaccine series AND receiving a booster shot, if eligible.
Incompletely Vaccinated: The College defines incompletely vaccinated as anyone who has not completed an approved COVID-19 vaccine series (two weeks after final dose), AND anyone who is eligible for a booster shot but has not yet received it.
Unvaccinated: The College defines unvaccinated as anyone who has been granted a medical or religious exemption from vaccination for COVID-19.
Isolation policies for positive tests:
A fully vaccinated student or employee who tests positive:
Must isolate for at least five days from onset of symptoms or from the date of positive COVID test if asymptomatic.
Students may isolate at home or in campus isolation housing. Employees should isolate themselves at home.
May exit isolation after five full days, if (1) all symptoms have  resolved; and (2) after two negative antigen tests, one on day five and the second on the day of release. Must wear a KN95 or better mask indoors at all times after leaving isolation, until the 10th day after they begin isolation. Students may remove their mask in their own room with the door closed; employees may not remove their mask indoors at any time during the 10 day period.
An incompletely vaccinated or unvaccinated student or employee who test positive:
Must isolate for 10 days from either onset of symptoms, or date of positive test if asymptomatic.
Students may isolate at home or in campus isolation housing. Employees should isolate themselves at home.
Close contact policies for asymptomatic students and employees:
A fully vaccinated student or employee who is an asymptomatic close contact:
May continue to work, attend class, and participate in activities.
Must wear a KN95 or better mask indoors at all times and get a PCR COVID test on day five after the last day of exposure.*
An incompletely vaccinated or unvaccinated student or employee who is an asymptomatic close contact:
Must quarantine in quarantine housing or at home until five days after the last day of exposure,* and get a PCR test on day five.
Once a negative PCR test is received after day five of quarantine, may resume work, attend class, and participate in activities, but must wear a KN95 or better mask indoors at all times for five days after finishing quarantine.
Masking and Usage Requirement:
It is recommended that you obtain supplies of KN95 masks to use while on campus. The College requires well-fitted masks (with no gaps), and recommends either double masking (a reusable mask with 2+ layers of washable fabric PLUS a surgical mask) or a KN95 or better mask. Loose fitting masks that need constant readjusting, single layer cloth masks, masks with one way exhalation valves, bandanas, and neck gaiters are not permitted. Recommended that masks be worn at all public spaces indoor and outdoor.
Access to Rapid Tests and KN95 Masks:
The College is in the process of securing a supply of rapid tests for use by students and employees who need them during isolation or other purposes. We expect those will be available soon. If you are currently in isolation and are eligible to finish isolation based on the new guidance above, but cannot secure rapid tests, please follow the previous policy, which requires 10 days of isolation. The College has a supply of KN95 or better masks that can be provided to close contacts who do not have these masks. Departments and offices may order masks from the Duplication Center (duplications@hampshire.edu), to make available.
 
* For people with ongoing exposure to someone infected with COVID-19 (such as living in households with sick family members), the last day of exposure is the last day the person is in proximity to an infectious person.
---
December 2, 2021: COVID-19 Booster Shot Requirement
Students, Staff, and Faculty,
Thank you to everyone at Hamsphire College for your care for one another as we continue to deal with the COVID-19 pandemic. Together, we have created an environment that allows us to learn and work effectively because we have so diligently followed pubic health guidance and reasonable safety precautions. I am deeply grateful to all of you for taking responsibility for the safety of our community. As we near the end of the semester, I write with some important updates about our COVID-19 protocols.
Booster Shot Requirement
Hampshire College will require that all eligible students and employees receive a COVID-19 vaccine booster shot. This policy is consistent with the current requirement that students and employees be fully immunized against COVID-19, and will help us maintain the safest possible campus environment. We ask that every member of our community arrange for a booster shot as soon as they reasonably can after becoming eligible.

This Tuesday, December 7, the College will offer a Pfizer booster shot clinic. The booster clinic will be open from 9-11:30 a.m. and 12:30-3 p.m. at the Robert Crown Center. The booster shot clinic is open to all students, employees, and family members who are eligible* for a booster shot. Employees and family members should bring insurance information with them to the clinic; however, no one will be turned away for lack of insurance. The clinic will take place alongside the asymptomatic testing program, so you can do your weekly test at the same time.

If you need an appointment to get a booster shot, you can find information about vaccination sites at Massachusetts COVID-19 vaccine finder or Vaccines.gov.

The deadline for all employees and students receiving a booster is March 21, 2022, which is the Monday after spring break. By that time most members of our community will be eligible for the booster; any exceptions will be handled on an individual basis. Students and employees with approved medical or religious exemptions are not required to get a booster. Right now you do not need to provide any information to the College about your booster status—details for verifying your status will be provided in the spring.
---
Fall 2021 Update Archive

Spring COVID-19 Testing

Hampshire College will continue weekly COVID-19 testing during the spring semester. Testing will be available on more than one day to address conflicts with classes and work schedules. All residential and commuter students and all employees working on campus are required to take part in asymptomatic testing.

Masking

Everyone will continue to be required to wear a mask indoors, except (1) when alone in a private office or residential room, (2) while seated and eating food in an approved dining area, and (3) when using a bathroom in a dormitory or mod. The indoor masking requirement will continue through the beginning of the spring semester, regardless of any changes to federal, state, or local guidance. We encourage everyone to wear a face covering outdoors when in a crowded environment. The masking requirement may be reassessed in the spring, should conditions warrant it.

If you have questions about these or any other COVID-19 policies, direct them to president@hampshire.edu.

*As of December 2, 2021, adults 18 and over whose second Pfizer or Moderna dose of COVID-19 vaccine was more than six months ago, or whose one dose of Johnson and Johnson COVID-19 vaccine was more than two months ago are eligible for boosters in Massachusetts. If boosters are authorized people under 18 before Tuesday, we will update clinic eligibility.

August 24, 2021: Fall COVID-19 Policy Update

Dear Hampshire College Students, Staff, and Faculty,

Over the next weeks students will arrive at Hampshire College, classes will resume in person, activities will be taking place on campus, and offices will be open. We have carefully designed the protocols that will be in place this fall to create an environment that is safe, welcoming, and conducive to the outstanding teaching and learning that Hampshire exemplifies. Our updated policies are detailed below.

We have been paying close attention to scientific research, government policies, and public health experts. We have heard directly from national leaders working to manage the pandemic, and have consulted widely with experts and colleagues at other colleges and universities in Massachusetts.  It is very clear that establishing a vaccination rate over 90% is the most important step to minimize the chance of serious illness and reduce the likelihood of community spread, should infection occur on campus. Because we have received so few requests for medical or religious exemptions, we anticipate the Hampshire College community to far exceed that level, which means our campus will be one of the safest places a person can be this fall.

Even with such high rates of vaccination, we recognize that COVID-19 continues to pose risks, especially as the delta variant circulates. Moreover, as students return to campus from around the world, many will be arriving from places where infection rates are higher than our region. We have decided to implement additional safety measures beyond vaccination for the first part of the semester. Following current CDC guidelines, face coverings will be required indoors, except in private spaces and while eating; this policy will be revisited if the Town of Amherst rescinds their indoor masking order.  In addition to the COVID-19 testing already scheduled for the return to campus, we have extended weekly asymptomatic testing through October 19. Testing data is published on this page. Finally, while all students will be tested upon arrival, I encourage students to take a test before travelling to campus to help reduce the chance that anyone might bring the virus to Hampshire with them.

I hope you share my excitement that our community will be able to once again gather in person, safely, in pursuit of our unique mission, as well as my appreciation for the commitment everyone has demonstrated to get us to this point.

Below is a detailed overview of COVID-19 policies for fall 2021. You can find more details in our FAQ.

Vaccination Requirement: Every student and employee must be vaccinated against COVID-19 in order to live, learn, work, or visit Hampshire College. Only those who have demonstrated medical contraindications to all available vaccines or who have sincere religious objections are exempt from the requirement.

All students must get vaccinated. Students who refuse vaccination without approved exemptions on file will not be permitted to attend Hampshire in the fall. Health Services must have a student's proof of vaccination on file before they are permitted to attend class, participate in activities, or move in.

All employees must get vaccinated. Employees who have not completed their shots, verified their status, or obtained an exemption by September 8 will be placed on unpaid leave while their status is reviewed. Employees who have not already verified your vaccination status should do so at either the August 26 or September 8 asymptomatic testing days.

Employees and students who have not reached full immunity (2 weeks after their final shot) must wear a face covering at all times, except when alone in a private room or office, and may not remove their mask to eat in an approved dining area.

Indoor Masking: The College will require indoor masking for everyone when federal, state or local guidelines require it, and when the COVID Response Team deems it reasonable based on campus conditions. Current CDC guidance recommends indoor masking for vaccinated people when the level of community transmission is "substantial," defined as greater than .05 cases per 100 people. The College may require indoor masking whenever large numbers of people are arriving on campus from outside the county, such as during move-in or following breaks. 

When indoor masking is required, everyone must wear a face-covering indoors, except (1) when alone in a private office or residential room, (2) while seated and eating food in an approved dining area, and (3) when using a bathroom in a dormitory or mod.

As of August 18, 2021 the Town of Amherst is under a special order requiring indoor masking in all areas accessible to the public, and indoor masking continues to be required by the State of MA in our Early Learning Center, at Health Services, and when using the PVTA. Indoor masking is required on campus until further notice; once indoor masking is no longer required in the Town of Amherst we will assess the necessity of continued masking. 

Vaccinated people may choose to wear masks even when the indoor masking requirement is not in effect. Everyone in the Hampshire College community should feel comfortable taking this precaution, and we encourage all of you to choose to mask whenever you wish to do so.|

Outdoor Masking: We encourage everyone to wear a face covering outdoors when in a crowded environment.

Positive Test: Anyone who tests positive for COVID-19 must isolate for at least 10 days, following local Department of Public Health requirements. A student who tests positive will be moved to an isolation room on campus; food will be delivered to students in isolation. A student who tests positive may opt to return home to isolate, if they can arrange safe transportation. Employees who test positive should isolate themselves at home. Guidelines set by the CDC and the Massachusetts Department of Public Health will determine when a student or employee can return to normal activities on campus.

Experiencing Symptoms: Anyone who has symptoms of COVID-19 should get a COVID-19 test and self-quarantine while awaiting test results. Students and employees with symptoms may not attend work, class, or other activities until they have received a negative COVID-19 test result. A person with symptomatic illness but who does not have COVID-19 must wear a face covering at all times, except when alone in a private room or office.

Close Contacts: Fully vaccinated people identified as a close contact with an infected person should be cautious and monitor for symptoms for 10 days after exposure to the close contact; they do not need to quarantine if they are not experiencing symptoms. They should get tested 3-5 days after their exposure. While waiting for a test result, vaccinated close contacts may continue to work, attend class, and participate in activities, but must wear a face covering at all times, except students when alone in a private dorm or mod room, until after receiving a negative test result. Vaccinated employees with private offices must wear a face covering in their private office while waiting for a negative test result.

Symptomatic close contacts should stay home and be evaluated by their health care provider, test after 3-5 days, and follow advice of the public health departments or Health Services regarding quarantine.

Unvaccinated people identified as a close contact with an infected person must quarantined while awaiting a test result; if the unvaccinated person is a student, they will be moved to isolation housing.

Asymptomatic Testing: In order to monitor the campus population and minimize the potential spread of any breakthrough infection, Hampshire will conduct on-boarding testing for all students and employees. After on-boarding is complete, weekly testing of all students and employees will take place through October 19, or until campus and local conditions indicate testing is no longer needed. All students and all employees working on campus must participate in the asymptomatic testing program.

Any vaccinated person who misses a weekly test may continue to work, attend class, and participate in activities, but must wear a face covering at all times, except when alone in a private room, until they receive a negative test result. Dining should be done in a private room or outside.
Any unvaccinated person who misses a weekly test must quarantine while awaiting a test result; if the unvaccinated person is a student, they will be moved to quarantine housing.

For people who miss a weekly test, UMass provides free COVID-19 testing Monday through Friday on their campus.

Results from the asymptomatic testing program are available on the College website. The website tracks the total number of asymptomatic tests completed, total positive results, current number of active cases, and current number of students in isolation on campus.

Visitors: Visitors to the Hampshire campus must wear a face-covering at all times when indoors on campus, without exception and regardless of the masking policy in effect for Hampshire employees and students. This includes when in the private offices or rooms of College employees and students. Current students and employees of the Five Colleges (Smith, Mount Holyoke, and Amherst Colleges, and UMass) are not considered visitors at Hampshire, as all of the institutions are requiring vaccination.

When a large number of visitors is expected on campus for events or activities, or when visitors will be on campus for extended periods, additional policies may be adopted, including requiring proof of vaccination from visitors for these specific events or activities.

Admissions: The College is open for admissions visitors and campus tours. Admissions follow the guidelines for campus visitors, including requiring masking for tour groups at all times.

Travel: While the College is not imposing formal restrictions on personal travel at this time, we strongly encourage everyone to limit travel as much as possible and avoid going to locations where the risk of infection is high. College-sponsored travel is limited to the United States and Canada; college-sponsored travel to other locations requires permission from the president. When travelling, please wear a mask whenever in a public location and exercise caution.

Pool Vehicle Usage: Instructional trips are permitted. Face coverings must be worn at all times in the vehicle, and windows should be open if weather permits. Participants need to understand that occupants of a shared vehicle are likely to be considered close contacts in our contact tracing protocol.

Dining: When an indoor masking requirement is in effect, fully vaccinated students and employees may remove their masks in designated indoor dining areas while actively eating; masks should be worn when getting food and moving around in these spaces. Designated dining areas include the Dining Commons, the Kern Center atrium when the Kern Cafe is open, the Bridge Cafe, and employee spaces specifically designated by the college for this purpose.

Unvaccinated students and employees may not remove their mask to eat, except outside or when alone in a private room or office.

Everyone is encouraged to take advantage of the outdoor eating spaces that are available on campus as much as possible. Covered outdoor seating is available at the Dakin/Merrill pavilion and the solar canopy.

International Students: Hampshire College will accept any COVID-19 vaccine that has been approved by the World Health Organization for emergency use during the global pandemic.

 An international student who has not been able to acquire a vaccine or received a vaccine that is not approved by the World Health Organization will be assisted by Hampshire Health Services in getting an approved COVID-19 vaccine series after arrival. International students who need to be vaccinated upon arrival must follow the guidelines for students who are not fully vaccinated until two weeks after their final shot.

Ed Wingenbach, President

---

August 9, 2021: Indoor Mask Mandate in Effect Immediately

Students, Staff, and Faculty,

Beginning now and until further notice, everyone must wear a face covering indoors on the Hampshire College campus, except when alone in a private office or private room with the door closed. This requirement applies to everyone, regardless of vaccination status. Masking was already required beginning August 14; this announcement accelerates that implementation.

This new policy follows the Centers for Disease Control recommendation that vaccinated individuals wear a mask in public indoor locations in an area of substantial or high community transmission. As of August 8, 2021, every county in Massachusetts except Hampshire County has exceeded 50 cases per 100,000 in the last 7 days, which is considered substantial transmission. While Hampshire County is still below the threshold, it is likely only a matter of time until the local status changes. With transmission increasing around the country, adding this additional safety measure a few days before originally scheduled to go into effect is wise.
I am grateful to everyone who has helped the Hampshire College community achieve a very high level of vaccination, which is the best security against contracting the virus. Masking adds additional protection, particularly against rare but possible incidents of spread between vaccinated individuals. I remain confident that we will be able to protect our community by following reasonable safety measures and treating each other with care.

Further guidance for specific venues and activities may follow as appropriate. For now, please be sure to wear a mask whenever you are in a public indoor location.

Ed Wingenbach

August 5: Important Information Regarding Fall 2021

Dear Students, Faculty and Staff,

We hope you are enjoying your summer and excited about resuming a fully in-person Hampshire experience for the 2021-22 academic year. As we prepare for students' arrival to campus, we want to share plans regarding COVID-19 vaccination, testing, move-in, and programming at Hampshire.

Vaccination

All students, faculty, and staff will be required to be vaccinated against COVID-19. This supports the College's plan to return to an in-person, fully residential, personalized, and safe college experience for the fall semester.
 
Students: All students are required to provide proof of vaccination to Health Services prior to arrival. This can be done by emailing a picture of your COVID vaccination card to healthservices@hampshire.edu.
 
Faculty and Staff: Please review the Covid-19 Vaccine Requirement for Employees.

Requests for exceptions for medical or religious reasons will be evaluated following Hampshire's standard policies. The expectation is that, by the fall, the College community will consist predominantly of vaccinated individuals, which will significantly reduce the risk of infection for all. International students who cannot obtain a vaccination before arriving in the fall will need to do so when they get to Hampshire; the College will work on ways to facilitate access. Contact deanofstudents@hampshire.edu (students) and hr@hampshire.edu (faculty and staff) for additional information and assistance.

COVID-19 Onboarding + Asymptomatic Testing

All residential and commuter students and all employees working on campus are required to take part in onboarding and asymptomatic testing upon arrival. Please plan to participate in both the Onboarding and Asymptomatic Testings, as all Hampshire community members are required to have two tests at least five days apart. With questions, please contact c19testing@hampshire.edu.

OnBoarding Testing Schedule

Monday, August 16: 10 a.m.–1p.m. (August 14 student arrivals + faculty/staff)
Monday, August 23: 11 a.m.–noon (All August 21 + 22 student arrivals)
Thursday, August 26:  9 a.m.–3 p.m. (All August 25 + 26 student arrivals + faculty/staff)
Saturday, August 28: 9 a.m.–3 p.m. (All August 28 student arrivals)
Sunday, August 29: 9 a.m.–3 p.m. (All August 29 student arrivals)

Asymptomatic Testing

Wednesday, September 8: 9–11:30 a.m. / 12:30–3 p.m. (All staff, faculty + students)

Face Coverings Required While Indoors for Everyone Upon Arrival Until August 30

Upon arrival, face coverings will be required indoors for everyone on campus until August 30, unless advised otherwise by national, state, and local health guidelines and requirements. The indoor face covering requirement applies at all times, except when alone, in a private office, in your living space, or when actively eating/drinking. In addition, members of the Hampshire community who are not fully vaccinated are also required to wear face covering outdoors in crowded settings if distancing cannot be observed. All are welcomed to wear a face covering indoors and outdoors beyond August 30, if they choose to do so. This practice will be adjusted as new information and circumstances dictate.

Conduct a Daily COVID-19 Symptom Self-Check

Every person (staff, faculty, student, community member, visitor, or contractor) who is living on campus or coming to campus must conduct a Daily Symptom Self-Check. It is extremely important that you wear a face covering and stay home if you have any potential COVID-19 symptoms. Although the majority of our campus is fully vaccinated, you still need to be vigilant about staying home or in your residential room, wearing face covering, and getting a COVID-19 test when you have a symptomatic illness.

For students, if upon conducting a Daily Symptom Self-Check, you have symptoms or known exposures related to COVID-19, immediately contact Health Services at healthservices@hampshire.edu to get tested for COVID-19. While awaiting results, you must wear face covering at all times and abide by all other Health Services instructions shared with you, which may include a quarantine and isolation stay.

As we prepare for the coming semester, we will once again rely on our community's collective commitment to the care and safety of all our members. Our success relies on the commitment of our entire community to observe two principles: personal accountability and honesty. We recognize that the well-being of the campus community, which is composed largely of residential students, depends primarily on personal self-regulation through community-spirited acceptance of the common good. In the face of COVID-19, we are called to build upon these core values, recognizing that now more than ever, each of our actions or inactions profoundly impacts our fellow community members—faculty, staff and students.
 
Thank you for promoting and protecting the greater good by committing to living and working together as a community, one in which faculty, staff, and students commit to prioritizing the well-being of everyone through our actions.
 
Here's to a successful and safe fall semester. Welcome Home!
 
Yours in Community,

Zauyah Waite, Ph.D.
Vice President for Student Affairs and Dean of Students

Christoph Cox, Ph.D.
Vice President for Academic Affairs and Dean of Faculty

---

August 2, 2021: Policy Updates and Reminders from the Covid Response Team

CDC Recommendation Updates

Masking

On July 27, in response to increasing case rates of the OVID-19 virus and the prevalence of the Delta variant, the CDC updated its guidance for fully vaccinated individuals. The CDC has modified its mask guidance for fully vaccinated individuals. This guidance recommends that fully vaccinated individuals wear masks indoors in areas with "substantial" or "high" transmission. 

As of August 1, Hampshire County is classified as "moderate" risk. Hampshire College will return to masking for all faculty/staff/students/visitors in shared indoor spaces if Hampshire County reaches a rate of "substantial" transmission. Our current policy is that masks are optional for fully vaccinated faculty, staff, and students, as well as our Five College partners. 

Masks continue to be required in indoor spaces for visitors and all unvaccinated individuals. Mask use may also be indicated for outdoor events and other activities where physical distancing cannot be maintained. In keeping with the new CDC recommendations, a person may choose to mask regardless of transmission rates if that person or someone in their household is immunocompromised or at increased risk for severe disease, or if someone in their household is unvaccinated. All vaccinated community members should feel welcome to wear masks in indoor spaces on campus if their personal assessment of risk so indicates; mask wearing should not be considered an indicator of vaccination status.

Because of travel into campus from other areas, we will require campus-wide indoor masking in shared spaces during these periods under the current CDC guidance. This includes (but may not be limited to) student return to campus and onboarding (August 14–30). The onboarding process will include asymptomatic testing for all faculty, staff, and students on campus.

Symptom Screening & Testing

The CDC also recommends that fully vaccinated people who have a known exposure to COVID-19 get tested 3-5 days after exposure, and that symptomatic individuals also test. Testing is readily available from a wide range of health care providers, and is expected to remain so.

Symptomatic people should not come to campus. People should wear a mask in public indoor areas while awaiting a test result. Anyone coming to the Hampshire College campus should self-screen for symptoms daily and follow CDC guidance on masking and testing.

Departmental Supplies

With indoor mask requirements in place for visitors, departments may want to keep a box of disposable masks on hand to make sure that they don't need to turn anyone away. Disposable masks are available from the Duplications Center (duplications@hampshire.edu), and will remain available to departments without charge, so please request just what you need. Hand sanitizer and surface wipes are also available; while data indicates that surfaces are not a common transmission source for COVID-19, good hand and surface hygiene remains a wise practice as we enter cold and flu season.

Space Usage

During last year's state and local occupancy restrictions, the College used the Ad Astra booking system extensively to help locate spaces for meetings and events. Most conference rooms and lounges were limited to a handful of people, making them essentially unusable. Occupancies have returned to normal across campus, but we encourage the community to continue to seek out and explore spaces outside of their departments—for new employees especially, getting out to see more of campus is great.

In addition, people loved having more outdoor seating last year (a necessity when the dining commons seating was closed, but a nice extra now). We will continue to provide additional outdoor seating throughout campus, and will be reinstating outdoor compost collection in commonly used eating areas when students return.
 
We will provide updates and more details as we draw closer to welcoming new and returning students back to campus.

---

July 30, 2021: Covid-19 Vaccine Requirement for Employees

Dear Staff and Faculty,

You have all worked diligently to create a campus environment that supports working with students in ways that are essential to our mission and values as a residential liberal arts college. Thank you. As we move toward the fall semester, maximizing vaccination rates within the Hampshire College community represents the best and most effective means to limit incidence and spread of Covid-19, and we have required all students to be vaccinated for the fall. While voluntary employee vaccination rates appear to be quite high, recent public health developments have led us to conclude that all people working and learning at Hampshire College should be vaccinated. After consulting with the Covid Response Team and Senior Leadership, I have determined that the College will require all employees to demonstrate that they have received their final dose of vaccine by September 8, 2021. 

We are already quite close to the goal. Based on the confidential vaccination survey, 94% of employees are already fully vaccinated, and another 2% are in the process of being vaccinated. Given those results, we believe it is important to close this small gap and ensure universal vaccination on our campus, with the potential exception of those who require medical or religious exemptions, as noted below.

Vaccination appointments are widely available in the Amherst area and in Massachusetts; many locations take walk-in appointments with little or no waiting. If you need to make an appointment, the state provides a website to assist. Please remember that employees who need to leave work to attend a vaccination appointment may do so without losing compensation, and that employees who have any adverse reaction to a vaccination are granted paid time off the day following their shot.

Employees who have a medical contraindication to Covid-19 vaccines that does not allow for full vaccination or whose sincerely held religious beliefs do not allow vaccination may request an exemption; these requests will be evaluated on a case-by-case basis. Contact Human Resources for more information about exemptions.

There is no need to act immediately to confirm your vaccination status; the College is working on a confidential reporting system and will communicate that process when it is in place. All employees will need to show official documentation that includes their name, vaccine brand, and date(s) of administration. We suggest employees have their documentation readily available to bring to work when requested to do so.

Employees who do not have an exemption and have not received their final dose of the vaccine by September 8, 2021 will immediately be placed on unpaid leave while their division head and Human Resources review their progress toward vaccination or application for exemption. Upon completion of review, failure to provide either proof of vaccination or a medical or religious exemption will result in termination of employment.

Finally, all employees who are not fully vaccinated must wear a face covering at all times when indoors, and outside when unable to maintain social distancing.  Unvaccinated employees may be subject to additional public health measures, such as testing, depending on current public health recommendations and best practices. Unvaccinated employees who do not follow this policy are subject to disciplinary action. Please remember that people may wear masks for many reasons and that wearing a mask does not mean a person is unvaccinated.

Ed Wingenbach

---

June 14, 2021: Update from the COVID-19 Response Team

Face Covering

Face coverings are no longer required anywhere on campus for fully vaccinated employees or students. People are fully vaccinated two weeks after their final shot.

Employees and students who are not fully vaccinated must continue to wear face coverings in all indoor spaces except private offices. Employees and students who are not fully vaccinated must wear a face covering outdoors when physical distancing cannot be maintained (such as during group activities or teamed work).

Remember that fully vaccinated people may choose to wear a mask for a variety of reasons. Please be respectful and understanding of this and avoid stigmatizing behavior.

Guests and visitors are required to wear face coverings indoors at all times.

These policies are subject to change in response to shifts in local or regional conditions or state local regulations. Face-covering policies for the fall semester have not yet been determined.

College Sponsored Travel

College-sponsored travel within the United States and Canada no longer requires authorization by the President. Employees and students traveling within the United States and Canada may return to normal travel policies. No college-sponsored international travel is permitted to any country other than Canada, unless specifically authorized by the President.

---

May 28, 2021: Update from the COVID-19 Response Team

The COVID-19 Response Team (CRT) is continually evaluating changes in Federal and State guidance in the context of our campus needs and priorities. Significant changes to Massachusetts COVID-19 emergency orders will be taking place May 29 under COVID-19 Order #69, in response to earlier changes in CDC guidance and positive trends in public health data. Hampshire College had also previously announced changes to campus policies and operations to take place on Tuesday, June 1.

The following policies and operational standards will be in place beginning Tuesday, June 1.

The updates listed below are for general college work and operations.  Consistent with past policy, external rentals (including, but not limited to, events booked at the Red Barn), as well as activities in areas with sector-specific guidelines (such as the Early Learning Center), may have different operating guidelines.

Face Covering Policy

Face coverings are no longer required outdoors on campus, except when physical distancing cannot be maintained (such as during group activities or teamed work).

Face coverings continue to be required indoors, in all spaces except private offices. 

The CRT is continuing to collect and evaluate campus and community health data, including but not limited to vaccination rates, and will discuss potential changes to the indoor face covering policy on June 10. Better understanding what portion of our workforce is vaccinated is a key factor in determining whether relaxing indoor face-covering requirements is reasonable. The CRT strongly encourages everyone to complete the voluntary vaccination survey sent by HR to all employees.  Additional survey reminders, with clickable link, will be sent to those who need to complete the survey on June 2 and 4. 

Visitors

As of June 1, visitors are allowed on campus without an approval process. Offices may re-open to the public at this time.  All visitors must follow current State, local, and college regulations when on campus, including wearing face-coverings indoors at all times.

Vendors and contractors should continue to register with Environmental Health and Safety before coming to campus, so that we can review our current COVID-19 protocols with them.

Occupancy and Space Usage

The State of Massachusetts has indicated that they plan to lift occupancy limits in workplaces on or soon after May 29; the CRT is currently awaiting further guidance from the State.  Hampshire has been operating at 50% occupancy; this means 1 person per 100 square feet, except in spaces with specific posted code occupancy.  This applies to all uses, including independent work, meetings, activities, etc.

Once the state issues clear guidance updates for workplaces, space capacities will be promptly updated in Ad Astra to match current state regulations. A campus-wide information and signage update will be done in conjunction with return to work and fall semester planning, with a completion date in early August.  If your department is finding it difficult to operate at the currently posted occupancies, please contact Elizabeth Craun (ecPP@hampshire.edu) directly to develop a department-specific plan.

Faculty and staff are encouraged to seek out large, well ventilated spaces to hold gatherings such as meetings, as well as to continue to hold meetings virtually when appropriate.  The Ad Astra booking system is the best way to find and reserve rooms, and Event Services will coordinate with Campus Safety, Facilities, and any other departments that are required to make sure your meeting or event runs smoothly.

---

April 22, 2021: COVID-19 Student Vaccination Requirement for Fall

Dear Students, Staff, and Faculty,

Last month I shared our expectation that we will return to an in-person, fully residential, personalized, and safe college experience for the fall semester. To reach this vision, Hampshire College will require students to be vaccinated against COVID-19 before arriving on campus for the fall Semester. Requests for exceptions for medical or religious reasons will be evaluated following our regular policies. Our expectation is that by the fall the College community will consist predominantly of vaccinated individuals, which will significantly reduce the risk of infection for all. Students who cannot obtain a vaccination before arriving next semester will need to do so when they get to Hampshire; we will work on ways to facilitate access. I invite all returning students to take advantage of the on-campus vaccination clinic occurring on April 25.

As vaccination rates and availability increase across the country, I am even more confident that the Hampshire College community can create a campus environment very much like the one we enjoyed before the pandemic. We demonstrated a remarkable dedication to the health of everyone in our community this year by maintaining safe practices, even as it has grown tiring to do so, and I know we will continue to be guided by shared commitments to scientific evidence and care for one another.

I strongly encourage all faculty and staff at Hampshire College to get vaccinated against Covid-19 as soon as possible, including at the on-campus clinic this Sunday. All employees may request leave time for vaccination appointments during work hours, and are entitled to paid time off the day following a vaccination if they experience side effects; this does not count against sick days. Our objective should be to create a community with near universal vaccination, both to protect those few people who cannot take the vaccine for medical or religious reasons, and to contribute to the safety of our neighbors. We are following the evolution of federal and state guidance regarding requiring vaccination of employees, and will continue to evaluate the possibility of mandating it.

I look forward to rebuilding a vibrant, connected, supportive campus community, after this year of distancing and anxiety. Thanks to everyone for your endurance and ongoing efforts to create a safe learning and working environment during these extraordinary times.

Ed Wingenbach
President
Spring 2021 Update Archive

May 6, 2021: Governor Baker's Limits on Gatherings

March 22 Appendix to COVID-19 Order #63 (issued March 18, 2021):
Superseded gathering limits from above order and amended them as follows:

Gatherings at private residences: 10 people indoors, 25 people outdoors
Gatherings at event venues and in public settings: 100 people indoors, 150 people outdoors

Taken from mass.gov website on 5/6/2021

Please note that these guidelines are in place to encourage everyone's safety. We encourage people to wear a mask in private and public settings when social distancing cannot be maintained. The mask mandate for downtown Amherst remains in place. Please wear a mask when you are downtown.

April 20: Covid-19 Vaccine Clinic On-Campus

This Sunday, April 25 from 9 a.m.–3 p.m.

We have arranged a Covid-19 vaccination clinic for all members of the Hampshire College community. The clinic will take place this Sunday, April 25, from 9 a.m.–3 p.m. at the Robert Crown Center. All currently enrolled students and all employees of Hampshire College are eligible to be vaccinated at this clinic. Students will be given priority if appointments begin to run low, but we expect our provider (Pelmeds) to have enough vaccine for all interested members of the Hampshire community.

There is no charge to anyone for the vaccine. You will need to provide your medical insurance information so that the provider can cover their expenses. Please bring a printed and completed copy of the consent and insurance information form with you to your appointment.

To schedule a vaccine appointment for Sunday (4/25), go to the CoVerified website. Enter your Hampshire email as log-in (e.g. xyz17@hampshire.edu). It will route you to the Hampshire log-in window where you will put in your username and password. Then go to "Schedule Test" on the left navigation bar. When scheduling your test, make sure to select "Covid-19 vaccination" under the "Select a Test Type" drop down menu. If you have never used CoVerified, you will first have to go through the steps outlined in the "Setting up CoVerified" portion of the Asymptomatic Testing and CoVerified FAQ. If you have trouble setting up CoVerified or scheduling an appointment, please email c19testing@hampshire.edu.

You must use the CoVerified website to make a vaccination appointment – the phone app will not work for this purpose.

The site staff would greatly appreciate you making every effort to schedule an appointment. However, if you are unable to make an appointment, walk-ins will be accepted as space is available.

When you come to the RCC, you will need to bring your medical insurance card/information and the completed consent form required by the provider. The current Pelmeds consent form does not provide appropriate options for gender identification; I have raised this issue with them, but it appears that everyone will need to use this version of the form for Sunday's clinic.

The clinic will be giving the Pfizer vaccine. The vaccine will be administered by medically qualified staff.

Finally, another vaccination clinic will take place on campus in the week before commencement in order to provide second doses at the correct time. If you leave campus before the second clinic you will still be able to get a second vaccine dose by making an appointment with any provider – you are not required to get both doses from the same source.

---

March 8, 2021

Hampshire College Campus Covid-19 Access and Use Policies

The Covid Response Team (CRT) announces the following policies for the acess and use of the Hampshire College campus. The most current information about these and other policies continues to be maintained on the Hamp Forward FAQ page.


Change in the Occupancy of Indoor Spaces on Campus Effective March 10, 2021

Recently, the State of Massachusetts entered Phase 3, Step 2 of the Reopening Massachusetts plan and the Emergency Order imposed by the Town of Amherst setting stricter occupancy limits than the State has been lifted.  After reviewing campus and community data,the CRT has approved a return to the Fall 2020 campus-wide space occupancy limits for work, activity, and general student use (allowable occupancy of indoor spaces is increasing from 25% to 50%). This change will take effect Wednesday, March 10 and remain in effect for the Spring 2021 semester unless otherwise announced.

Updated signage and room reservation information will be posted this week. You will see two occupancy limit signs in many of our indoor spaces: one for instructional use and one for non-instructional use. Descriptions of the two different types of occupancies and how to reserve space are available on the Intranet. Sector-specific standards will continue to be in place when applicable (including, but not limited to, dining, athletics, and day care).  Classroom, studio, and laboratory occupancies for formal instruction have remained the same as in the Fall 2020 semester due to a special exemption for instructional activities.

This change is being implemented because the Fall 2020 semester space usage plan (developed using 50% occupancy) effectively balanced safety with campus operations and the initial Spring 2021 reduced occupancies restricted some core operations.  The space usage plan effective March 10 will be in place for the remainder of the Spring semester, unless state or local policy changes require lowering these limits. Occupancy limits will not be increased before the end of the Spring semester, even if the State moves into Phase 4.

While the restrictive space standards observed at the start of the Spring 2021 semester posed challenges, they led us to be creative in identifying and utilizing alternative spaces for counseling, study groups, and other in-person activities. The campus community is asked to continue to use the largest available spaces (such as classrooms instead of conference rooms) for in-person activities, whenever practicable.  Improve ventilation in indoor spaces whenever possible by opening windows and doors, and consider moving activities outdoors as the weather allows. 

Campus Access and Visitor Policy Reminder

Consistent with our commitment to prioritize the health, safety, and well-being of our students, staff, and faculty and students, Hampshire College is continuing to strictly limit visitor access to campus. 

All campus facilities are solely for the use of faculty, staff, and currently enrolled residential and commuter students who are in compliance with all requirements (including, but not limited to, complying with face coverings, observing occupancy limit requirements, and participation in the asymptomatic testing program). Remote students are not permitted to use campus facilities.

The campus grounds remain open to the public, unless otherwise announced.  Public access is limited to passive recreation in compliance with all state and local regulations and our posted rules. No access to buildings and amenities, or participation in activities, is permitted.

Hampshire recognizes that some visitor access to campus is required to support the academic program and campus business operations. All activities that involve bringing visitors into campus facilities must be approved by the Division Head prior to the visitor coming to campus. Division head decisions should follow the "Other Campus Guests" criteria outlined below. Visits will only be approved if the activity is both time-sensitive and cannot be completed remotely.

Remote students are not eligible for visitor permissions. Students, faculty, and staff may not request that visitors be given access to buildings or amenities for reasons that are not business or academic. No off-campus visitors are permitted in student housing.

Contractors and Vendors:

With the exception of deliveries that do not involve entering any buildings (Instacart, pizza delivery, etc.), all vendors and contractors (existing or new) must register with our Environmental Health and Safety Manager before their next visit to campus for a review of their health and safety protocols (including, but not limited to, COVID-19 safety policies). Please connect these vendors with Steve Fratoni (rfratoni@hampshire.edu), and copy Sarah Steely (slsNS@hampshire.edu) for vendors specific to Cole Science operations.

Contractors and vendors who demonstrate non-compliance with COVID-19 safety policies will not be allowed to continue to access our campus.

Services such as Instacart and restaurant deliveries should be done as contactless drop-offs whenever possible, and physically distanced when not possible. Under no circumstances may employees of these services enter our buildings; if you require assistance to bring in these deliveries, please contact OARS to discuss accommodations. Hampshire continues to encourage contactless deliveries as an alternative to in-person shopping whenever possible.

Other Campus Guests:
Hampshire recognizes that departments may need to, on a limited basis, welcome individuals onto campus for time-sensitive work that requires an on-campus presence.  These visits must meet the following criteria:

The work must be time-sensitive, and
The work must not be able to be completed remotely (i.e., requires interacting with or viewing in person of on-campus facilities or resources).

All activities not meeting these criteria should be conducted remotely or postponed. 

If an in-person visit is necessary, guests must:

Attest (if applicable) that their employer has a COVID-19 compliance program in place that meets all state and local laws,
Follow posted Hampshire College policies, including (but not limited to) face coverings, physical distancing, and occupancy limits.

These requests should be directed to Division Heads for consideration on a case-by-case basis. Division Heads have full and sole discretion to approve or decline visitors, though they may contact the CRT or other stakeholders to discuss visitor logistics (including, but not limited to, participation in the asymptomatic testing program).

Other Activities:

Requests for campus access by visitors or groups not falling clearly into the above categories should be directed to the Covid Response Team (CRT) via Elizabeth Craun (ecPP@hampshire.edu). Some examples of approved activities include a small intercollegiate cross-country meet and several outdoor only service projects by alumni groups. Please provide at least two weeks lead time on requests. The CRT may approve activities as proposed, deny activities altogether, or approve activities with additional restrictions.

Submitted by: Elizabeth Craun

---

February 3, 2021

Travel Guidelines for Students

Dear Students, Faculty, and Staff,

As we welcome students back to Hampshire's campus for the spring 2021 semester, we continue to determine ways to keep the campus community as safe as possible. While we are hoping that students minimize their travel, we recognize there may be circumstances that take students away from our campus. We support students' ability to maintain local off-campus employment, shop for essential items not available on campus, access health-related referrals, tend to urgent family matters, and other needs that may arise. While off campus, students must maintain the same safety precautions expected on campus.

Our goal in outlining Hampshire's travel policy is to be proactive in helping students be successful in their academic pursuits while also doing everything possible to keep themselves and others safe.

Our community will continue to take significant steps to minimize the presence of the coronavirus on campus. To maintain that level of safety, the College is limiting travel by students living on campus to within Hampshire County. If a residential student leaves the County for any reason, they are welcome to return to campus, but must do so while adhering to expectations outlined in the College's phased reopening plan (see below), beginning with Phase One. Students will continue to progress through the phases until the receipt of their second negative COVID test result; students returning from outside of Hampshire County do not need to take a COVID test before returning to campus, but are expected to follow all restrictions outlined in Phase One.

Students who have returned to Phase One may participate in campus testing every Tuesday at the Robert Crown Center, but may also wish to take advantage of the UMass Community COVID testing site in order to move through the phases more swiftly. It is important to note that there must be at least five days between the first and second COVID tests.

Students anticipating leaving the County should complete the Campus Travel Form. This form will be used to alert staff in several support offices (Dean of Students Office, CASA, etc.) in order to facilitate a seamless transition back to campus life.

Students whose academic program requires them to regularly leave Hampshire County (e.g, internships, field work, etc.) should contact the Dean of Students to discuss special arrangements. Students who leave Hampshire County for medical or mental health care and return immediately are exempt from this policy and do not need to complete the Travel Form, but should contact Health and Counseling Services at 413.559.5458 to discuss the possible need for increased testing upon their return to campus.

Any questions regarding travel throughout the semester can be directed to deanofstudents@hampshire.edu.
 
Christoph Cox, Ph.D.                                                                         
Vice President for Academic Affairs and Dean of the Faculty

Zauyah Waite, Ph.D.  
Vice President for Student Affairs and Dean of Students                 
 

December 21, 2020

Important information regarding Spring 2021

Dear Students, Faculty, and Staff,

We hope you are all enjoying the start of a much-needed break in the face of a semester that was extraordinary in every way. As we prepare for your return to campus for the spring semester, we want to share plans for testing, programming, and arrival back to Hampshire.

Testing:

Due to the pervasiveness of the COVID-19 virus, particularly in the coming winter months, we will expand our testing program in the spring semester. All residential students, commuter students, and student-serving employees will be tested on a weekly basis. To minimize the likelihood of community spread on campus as students return from around the country, all students will be tested upon arrival, and are expected to avoid close contacts until receiving a second negative test result.

Arrival and Reopening:

January 24: Arrival of early and new international students
January 29: Arrival of new students
January 30 & 31: Arrival of continuing students
February 1: Semester begins  
February 8: In-person instruction and activities begin

Three Phases of Reopening and Onboarding:

Phase 1 Onboarding Asymptomatic Testing Upon Arrival and After Day 5.
We are mindful that there may be high rates of virus transmission in communities around the country as next semester begins. All students will follow the same arrival protocols, as the distinction between "lower-risk" and "higher-risk" locations is unlikely to be meaningful.

Every student will be tested at the RCC upon arrival to campus, prior to being allowed to move into their residences.
Instruction and activities will be remote.
Campus buildings other than mods and dorms remain closed to students.
During this phase, students must:

Wear a mask at all times when outside of their assigned individual room (masks must be worn in common areas in mods and in dorms).
Clean common spaces after every use; the College will provide sanitization supplies.
Minimize all contact with others.
Not allow guests in their individual rooms.

Phase 2: Mod Pod Interaction.
This phase will begin for a student once a second negative test result is received from Hampshire's asymptomatic testing program. During this phase, students may resume forms of physical interaction and activity similar to the fall semester.

While instruction and college sponsored events will be remote during this in-between phase, students in phase 2 should be able to relax their physical distancing. Students in mods will no longer be required to wear face coverings while in shared common spaces in their assigned mods, once every resident of the mod enters phase 2.
Students in residence halls must still wear face coverings while in common areas for the safety of the College staff who maintain those spaces.

Phase 3: Wellness Days Begin February 8.
On Friday, February 5, all students will be tested at the RCC, which ensures that students receive two test results before Monday, February 8.

Campus buildings open on regular schedules.
Enhanced student experiences begin. This includes increased indoor activities and gatherings and a full calendar of activities that all students will receive upon arrival.
Courses that have in-person instructional elements may begin in-person meetings.
Return to regular rules for students in residence halls and mods.
Weekly Testing Tuesdays begin February 9 and end April 27.

As we prepare for this coming semester, we recognize our collective success stems from the commitment of our entire community to consistently practicing the 3Ws: wearing face coverings, watching their distance to ensure that they were one cow apart from one another, and washing, cleaning, and sanitizing. We did this with 411 students in residence, 51 students commuting, and 52 students studying remotely. We delivered online and hybrid instruction, conducted new student orientation and delivered creative in-person and virtual programming to build and strengthen our connections with one another. We are grateful to each of you for prioritizing our community's health and well-being.  

Hampshire College created one of the safest campuses in the country, with a positivity rate far below that of the local community. Between August 10 and December 1, we administered 5,571 tests, garnering four positive results, a 0.11% rate of infection. Symptomatic tests performed by Health and Counseling Services totaled 112, with 2 positive results, a rate of 1.8%. Contract tracing showed that none of the positive cases were related; each person contracted COVID-19 separately. Contact tracing and isolation protocols quickly prevented community spread. At the end of the semester, all students were offered a test before leaving campus for winter break. Health Services staff also administered 329 flu vaccines to students.

Please follow this webpage during the break for the latest updates and instructions. Enjoy your time with family and friends over the break, with appropriate precautions. And get some well-deserved rest. Congratulations – You Did It!       

Yours in Community,

Zauyah Waite, Ph.D.
Vice President for Student Affairs and Dean of Students

Christoph Cox, Ph.D.
Vice President for Academic Affairs and Dean of Faculty
Fall 2020 Update Archive

October 5, 2020

Coronavirus Update (Still at 0 Cases)

Dear Students, Faculty, and Staff,

Nearly two months after students began returning to campus, Hampshire College has not recorded any cases of Covid-19. We have performed 2,300 polymerise chain reaction (PCR) tests, and nobody at Hampshire has tested positive. This fact is a testament to the thoughtfulness, care, and diligence with which our community has faced the pandemic. Our students, faculty, and staff have demonstrated abundant commitment to keeping one another safe, carefully maintaining physical distance, wearing masks indoors and out, reporting symptoms, washing or sanitizing hands, and limiting unnecessary travel.

In the last week several events clarify how important it is that we not relax our precautions. Between September 28 and October 2, UMass recorded 77 positive tests, many related to a single off-campus gathering. The rapid growth of this cluster exhibits just how quickly the coronavirus can spread here in Amherst, if people relax physical distancing. The infection of President Trump and many of the people around him illustrates the limitations of testing: despite being tested more than perhaps any other person in the world, the President contracted and spread Covid-19. Testing identifies infections after they occur in order to contain further spread, but testing alone is not a precaution against contracting or spreading the virus. Responsible behavior is the primary means to avoid transmission, and no amount of testing can protect us from people who disregard the safety of others.

I ask everyone in the Hampshire community to continue their commitment to uphold our Community Care Agreement and follow campus safety rules. I want to emphasize in particular two points. First, it is essential to neither host nor attend gatherings that pose a safety risk to you or the community, and to remove yourself from any gathering that becomes unsafe. This issue may become increasingly relevant as the Amherst area enters stage 2 of phase 3 of the state reopening plan, which allows larger public gatherings in some venues. Second, I ask everyone to limit unnecessary personal travel, and to diligently observe both state regulations and safety precautions if you do travel. I also want to let the community know that the College may need to consider further travel restrictions and limitations of campus access, if conditions in the region worsen.

Thank you to everyone in the Hampshire College community. Our commitment to keep one another healthy and safe deserves celebration. The challenge of this pandemic reveals much about people; we should all be proud that our community's response has been compassionate, caring, and collaborative.

Ed Wingenbach

August 31, 2020

Massachusetts Exempts Four More States from Travel Rules

Colorado, Delaware, Pennsylvania, and West Virginia no longer have to quarantine for 14 days or show proof of a negative COVID-19 test within the past 72 hours upon visiting Massachusetts.

Update to Travel Order

Rhode Island and Hawaii have been removed from the list of lower-risk states. Find updates to the Travel Order here.

New Massachusetts Travel Order

On Friday Massachusetts Governor Baker announced a new travel order that will apply to all visitors and returning residents entering Massachusetts, effective August 1, 2020. Unlike the previous travel instruction, the new policy is mandatory. The new order will require modification of arrival policies for some students. The rest of this letter discusses these changes in more detail, but here is a summary:

Students arriving from "lower-risk" states: no changes to Hampshire College arrival policies.
Students arriving from all other areas who have a qualifying negative COVID-19 test result: no changes to Hampshire College arrival policies.
Students arriving from all other areas without a qualifying negative COVID-19 test result: tested upon arrival on campus and then remaining in quarantine in their room until a negative test result is posted – results are generally available within 24 hours.

The State order applies to all people entering Massachusetts from areas other than those states designated as lower-risk. That list currently includes New York, New Jersey, Connecticut, Rhode Island, New Hampshire, Vermont, Maine, Massachusetts, and Hawaii; the list may change as conditions evolve. The order requires that travelers to Massachusetts from any other state either produce a negative COVID-19 test result from a test administered within 72 hours prior to arrival in the state, or quarantine for 14 days. The order allows for testing after arrival in Massachusetts, but requires quarantine until a negative result is obtained.

To conform to the new travel order, Hampshire has made the following changes to the arrival process for new and returning students. Because the travel order has different requirements based on point of origin, our policies also need to distinguish between students arriving from lower-risk states, and all others. Every student will be tested for COVID-19 on the day of arrival, regardless of where their travel originated.

Students Arriving from Lower-Risk States

Come to campus at your assigned arrival time.
You may have up to two non-student guests assist with moving for the duration of the assigned arrival time, as long as the guests are also arriving from lower-risk states.
All students and guests will be required to provide and wear their own mask or facial covering for the duration of the move-in process.
Go to the campus test site to get a COVID-19 test at the assigned time.

Students Arriving from Non-Lower-Risk States, with a Negative Test Result that meets the 72-hour Rule

Students Arriving from Non-Lower-Risk States, without a Negative Test Result that meets the 72-hour Rule

Complete and submit the Massachusetts Traveler Form.
Come to campus at your assigned arrival time.
Go immediately to the campus test site to get a COVID-19 test; you must wear a face-covering and stay more than six feet from everyone in the test site.
Move your belongings into your room. You may not have non-student guests assist unless they have a negative test result that meets the 72-hour rule (if they do have negative results, you are limited to two guests). The College will provide assistance in moving your belongings to your room.
Once moved in, you may not leave your room until you receive your test result, except to use the bathroom.
Meals will be delivered to your room until the test result is received.
Test results are expected within 24 hours, so you should have a test result prior to the beginning of classes; if the result is delayed for any reason, you will be able to begin class remotely.
If the test result is negative, you are released from quarantine and may leave your room.
If your test result is positive, you will be moved to the designated residential spaces on campus to be used for isolation of any student who tests positive for COVID-19.

Families/Friends Traveling from Non-Lower-Risk States, without a Negative Test Result that meets the 72-hour Rule

In the case of travel to drop off students at college, the order reads: "If a parent/guardian/family member is entering Massachusetts only to drop off the student and then immediately leaves the campus and the state, then they would meet the exemption of transitory travel."
As required by the State's order, families and friends may not enter any campus building and must leave campus as soon as the student's belongings have been unloaded from the vehicle. Assistance will be provided to help students move belongings into their rooms.

Families/Friends Traveling from Non-Lower-Risk States, with a Negative Test Result that meets the 72-hour Rule

Anyone over the age of 18 must complete and submit the Massachusetts Traveler Form.
You may assist a student for the duration of the assigned arrival time (limit two people).

If you have further questions about the details of moving into campus residences, please contact deanofstudents@hampshire.edu.

Zauyah Waite

Vice President for Student Affairs and Dean of Students

July 20, 2020

We continue to work on plans to provide a safe and rewarding Hampshire College experience this fall. While the fall will involve some significant differences, Hampshire College is better situated than almost any other college to provide a safe and viable residential experience. Because of our size and residential configuration, we can invite back all of our students while ensuring that everyone has a private living space, providing access to important academic and social spaces, regularly testing all students to detect and control community spread, reserving space for isolation and quarantine, and offering student life programming and co-curricular activities. Everyone will need to follow basic safety and social distancing expectations in public spaces, but with some creativity and innovation (things Hampshire does well!) we will create together an intellectually and socially vibrant campus community.

Availability of Academic Spaces

Ensuring facilities are available to students is a priority. We expect all academic spaces and facilities to be open for student use this fall, including the Art Barn, the library, computer and media labs, music and dance spaces, and other areas that support learning. There will be some restrictions on how spaces are used and by how many people at any one time. All students will be expected to observe face-covering and social distancing rules.

Testing, Tracing, and Isolation/Quarantine

All students will be tested for COVID- 19 with a RT-PCR test on the first day of arrival on campus. After the initial on-boarding testing, every resident and commuter student at Hampshire College must participate in the bi-weekly COVID-19 testing program. Participating in the testing program includes registering with an application that allows scheduling of tests and reporting of results. The app can be installed on a smartphone or accessed using a web browser; if installed on a smartphone, the app does not track the location of students. Any student who has close contact with someone who has tested positively for COVID-19 should inform Student Affairs immediately (the CDC currently defines a close contact as being within six feet of an infected person for at least 15 minutes). Every resident and commuter student is expected to cooperate with the UMass contact tracing team should a case be detected on campus, including responding to texts, calls, and emails, and answering completely and honestly all questions about contacts. Students directed to move to isolation or quarantine housing must do so without delay; if a student elects to return home for isolation or quarantine, they must do so without any further direct personal contact with other members of the campus community.

Out of State Arrivals

The State instructs all travelers arriving in Massachusetts from outside of Rhode Island, Connecticut, Vermont, New Hampshire, Maine, New York, or New Jersey to quarantine for 14 days. Along with other colleges and universities, we are engaged in discussions with the Department of Public Health and Department of Higher Education about what this instruction means for college students living on campus; the state has not provided firm guidance. We plan to ask all students, including those arriving from outside RI, CT, VT, NH, ME, NY, or NJ, to stay on campus and limit close contacts for the first 14 days after arriving on campus. If possible, we encourage all students to self-quarantine before coming to campus, to minimize the likelihood of contracting the virus. Should the state issue further clarification we will reevaluate our policy.

Remote Learning Option for Fall 2020

For the fall 2020 semester, students who have health concerns about being on campus may opt not to live on campus while taking courses that support entirely remote participation. Given their health concerns, students who opt for an entirely remote semester may not come to campus during the semester. Some Hampshire courses (for example, some performing arts courses, some science courses with labs, and other courses with significant in-person expectations) may not be available to remote learning students. Five College courses will continue to be available to Hampshire students in a remote format; none of the Five Colleges are permitting students from the other campuses to take courses in person. Students choosing a remote semester are not part of the College COVID-19 testing program and will not be charged the Café Card fee, EMT fee, or Health Services fee.

Students who opt for a fully remote fall semester must notify the Center for Academic Support and Advising at casa@hampshire.edu by August 14, 2020.

Hampshire is also planning an intensive January term, during which all courses will be fully remote; this additional term is included in tuition and is available to all students.  

International Student Arrival

We recognize that international students face continuing difficulties acquiring visas and traveling to the United States. International students who are unable to arrive at Hampshire College before classes start may begin the semester remotely. International students may arrive on campus as late as the fall drop date, September 11, 2020. Any international student who cannot arrive by September 11, 2020 may continue the semester as a remote learning student (see above).

On July 14, 2020, the federal government withdrew the Student and Exchange Visitor Program (SEVP) guidance that was issued by ICE on July 6, 2020. As a result of the withdrawal, the guidance issued in March 2020 allowing international students to study remotely if a college moves to fully remote offerings, remains in effect. If SEVP guidance changes, we will contact our international students immediately.

Registration

As we adjust to the new circumstances this fall, many course offerings have changed, new courses have been added, and other courses have been cancelled. Some course descriptions have changed. Meeting times and room assignments have been adjusted to accommodate social distancing and student safety. Current course registrations have been cancelled to give all students the same opportunity to re-register for the revised course offerings and add their name to course wait lists. The re-registration period will occur prior to arrival during the week of August 10. The wait list will start to run at the beginning of the add/drop period on August 24.

Students may check the course offerings on TheHub anytime, but keep in mind that we are not yet finished with our updates. We plan to have the curriculum finalized on TheHub by August 7. Students may request Five College courses on TheHub beginning on August 10. Because we will not be accepting paper forms in Central Records, students will need to have the instructor of the course email permission to centralrecords@hampshire.edu. Note that we will not process a Five College request until we receive email permission.

Students will find their time to begin registering on their "approvals and holds" menu item on TheHub at the end of July. We will send out another announcement at that time as a reminder.

Face Covering

All students, staff, faculty, and visitors must wear a face covering in all indoor spaces at all times, and outside if unable remain more than six feet away from other people. Face-coverings do not need to be worn in a private room or office when alone with the door closed. Face coverings must cover the mouth and nose. If you cannot wear a face covering due to a health condition, contact the Dean of Students Office to discuss possible accommodations. In no circumstances will anyone be permitted to attend classes or other indoor gatherings in person without some form of face covering.

Behavioral Expectations and Enforcement

The safety of everyone on campus, staff, faculty, and students alike, depends upon a shared commitment to follow the prevention measures the College has put in place. While Hampshire emphasizes personal responsibility and community education and hopes that students will observe these guidelines because they value the safety of our community, behavior or actions that place others at risk are accountable to policies in the Hampshire College Student Handbook and the "Norms for Community Living."

---

July 10, 2020

On June 18, we announced Hampshire's plans to invite all students to return to campus this fall, and shared some of the policies we have adopted to do so safely. Our Academic Continuity Committee, COVID-19 Response Team, and Student Life Continuity Committee have been working together to prepare the campus and faculty for the coming year. These committees have consulted with local and national health experts, discussed plans with our Five College partners, and carefully surveyed our residential, classroom, and community spaces. The 2020–21 academic year is bound to be unusual and will require our community to adopt new behaviors and practices. But we are confident that, with regular virus testing combined with community adherence to health and safety protocols and behavioral expectations, our faculty and staff can deliver a genuinely Hampshire education.

Welcoming All Students

Every student will have their own single room. Occupied rooms will be spread out within campus residences, maintaining all areas below 50% capacity. The number of students sharing any bathroom will be strictly limited. Ensuring that every student has the space to maintain physical distancing in their daily living situation is the minimum expectation any college should have in order to open — we will more than meet that standard.

Testing, Tracing, Isolation

We are fortunate to have entered into an agreement with the Broad Institute of MIT and Harvard to provide asymptomatic testing for COVID-19 throughout the semester. Every student enrolled in the fall will be required to participate in the testing program, which should allow us to identify and mitigate possible virus outbreaks. All students will be tested after arriving on campus; thereafter students will be tested biweekly. We will stagger testing so that students in each mod or dormitory area are tested each week. Testing will include commuter students and employees with a high level of student contact.

In addition to asymptomatic monitoring testing, all community members will be reminded to do a COVID-19 symptom self-check daily. Any student with COVID-19 symptoms or an identified close contact to someone with COVID-19 will be tested at Health Services on campus, with same or next day results available, and billed to the students' health insurance.

Hampshire has plans in place to work with the UMass Contact Tracing team to effectively trace contacts of any student who tests positive for COVID-19. This team will provide seven-day-a-week coverage to follow up on any positive cases and promptly trace all contacts. We will require testing of all close contacts of positive cases, following Massachusetts Department of Public Health guidelines.

Isolation and Quarantine


To prevent the spread of COVID-19 among the campus community, Hampshire College has designated residential spaces on campus to be used for isolation of any student who tests positive for COVID-19. Additional spaces have been designated to quarantine students identified as close contacts of a student who tests positive. Hampshire will follow the latest guidance developed by the Centers for Disease Control and Massachusetts Department of Public Health for required length of isolation and quarantine periods after a positive case.

All Hampshire students in isolation or quarantine will receive daily wellness check-in and support from Health and Counseling Services and Residential Life staff, as well as meals delivered daily from Dining Services. All isolation and quarantine spaces have sufficient internet connection to allow for ongoing access to online learning. Students will not be able to leave these spaces or have any visitors during the specified isolation or quarantine time. We recommend that students review the "Isolation and Quarantine Planning Guide for Students" to prepare needed items for quarantine or isolation before arriving on campus.

Cleaning and Disinfecting

High-touch surfaces and bathrooms in high-traffic areas will be cleaned multiple times daily. This includes the bathrooms and door handles in Merrill and Dakin residences.  Mod cleaning will remain the responsibility of student residents. Classrooms and other common spaces will be outfitted with cleaning kits; users are expected to clean high-touch surfaces before leaving.

Move-in Dates

We will welcome new students to campus on Thursday, August 20, and continuing students on Saturday and Sunday, August 22 and 23. All students moving onto campus will be assigned staggered arrival times, to be communicated in late-July. Students may have up to two non-student guests assist with moving for the duration of the assigned arrival time. All students and guests will be required to provide and wear their own mask or facial covering for the duration of the move-in process.

Travel to Campus

Since March 2020, all travelers arriving in Massachusetts — including students who leave and return to Massachusetts — are instructed to self-quarantine for 14 days, except that, beginning July 1, 2020, travelers from Rhode Island, Connecticut, Vermont, New Hampshire, Maine, New York, and New Jersey arriving in Massachusetts are exempt from this directive. At this point, students arriving at Hampshire College from outside MA, RI, CT, VT, NH, ME, NY, or NJ, should plan to remain on campus for at least 14 days and limit their close contacts. This Massachusetts directive may change by the August move-in dates, and we will help students to comply with state directives as they arrive.

International Students

As you may have seen in the news, the Student Exchange Visitor Program (SEVP), the U.S. government branch of Homeland Security that oversees the F-1 visa regulations, announced new guidance for colleges and universities in issuing visas to international students for fall 2020. We understand that many of you may have questions and concerns about your current F-1 visa status and your ability to continue or start at Hampshire College this fall. First, as important members of our community, we are committed to doing everything necessary to support and enable you to continue or enroll at Hampshire this fall. Your international student advisors continue to review the new information and will provide concrete and helpful guidance in upcoming weeks as you plan for your fall academic semester. In the meantime, we would like to emphasize the following:

Despite the new SEVP Guidance, there is no immediate effect on current international students' F-1 immigration status, and we have plenty of time to properly advise you on your fall semester plans, including on-campus employment, internships, etc. as more clarity and guidance from SEVP develops.
Hampshire has committed to providing a hybrid model of both online and in-person classes. The hybrid model will allow international students currently in the U.S. to continue in the fall in their current F-1 status, and will allow new international students who are able to obtain visas to come to Hampshire this fall. The new SEVP Guidance affirms that F-1 students may remain enrolled in schools adopting the hybrid model that Hampshire is using this fall.
For new international students who are unable to secure visas or currently enrolled students still at home, we are researching the possibilities to take courses remotely from home and will issue guidance as soon as we are able.
Please do not change or make decisions about enrollment at Hampshire or make plans to depart the U.S. without first consulting your international student advisors Katie Irwin and David Ko by emailing missintl@hampshire.edu. For those of you currently outside of the U.S., if you are uncertain that you will be able to arrive to campus in time for classes on August 25, please also reach out to Katie or David, so they can advise you on how best to proceed.

Dining Services


Dining Services will offer take-out food service and a variety of groceries through an online ordering system. The Hampstore will continue to stock limited food items, and the Bridge Café will be closed for food service. Dining Services will continue to offer accommodations for all dietary needs. Contact Andrew Fleischer, dining services director.

Dining Hours:

Kern Kafé
Monday–Friday, 8 a.m.–2 p.m.

Dining Commons
Monday–Friday, Breakfast: 7:30–9 a.m.; Lunch: 11:30 a.m.–2 p.m.; Dinner: 5–9 p.m.
Saturday and Sunday, Brunch: 10 a.m.–2 p.m.; Dinner: 5–8 p.m.

Prescott Tavern
Monday–Friday, 4–10:30 p.m.

Student Engagement


Students will continue to have opportunities to engage in a variety of community building and co-curricular activities both in small groups and virtually. Campus Leadership and Activities encourages student group signers to register their group and to keep their HampEngage page updated, and will work with members to create meaningful opportunities for community connections. Signers and other campus center student leaders will be trained in how to create effective events and meetings for smaller groups, and how to create virtual events for larger groups.

Guest Policy

The residence halls are open only to Hampshire College students in residence. No off-campus visitors are allowed. Guests who are Hampshire College students living on campus are allowed to visit other students' rooms so long as they are following physical distancing guidelines. A maximum of one guest is allowed at a time in a student's room.

Off-Campus Students


Students approved to live off campus may participate in in-person classes and access academic and public spaces on campus. Off-campus students will not be allowed in the residence halls as guests.

Student Travel
 During the Semester


While we discourage students living in residence from traveling, we recognize that there are legitimate reasons why students need to leave campus. We support students' ability to maintain off-campus employment, shop for essential items not available on campus, access health-related referrals, tend to urgent family matters, and other needs that may arise. While traveling, students must maintain the same safety precautions expected on campus.

PVTA Buses

Due to changes in policies regarding visiting the other Five College campuses, and because students will be discouraged from leaving campus, the Pioneer Valley Transport Authority (PVTA) has reduced the frequency of buses on most Five College routes. Those changes are outlined here. Details can also be found at pvta.com.

The Academic Calendar

Fall all classes will begin on Tuesday, August 25, and end on Friday, November 20, the Friday before Thanksgiving. The College will observe Yom Kippur, but there will not be an extended fall break. Students who leave campus for Thanksgiving will not return until the beginning of the spring term, but students may remain on campus until the official end of the term on December 4. This schedule aligns with those of Amherst College, Mount Holyoke College, and the University of Massachusetts, and allows us to offer a full semester within a compressed time frame.

In January, we are planning an intensive 14-day term (January 4–22, 2021) with a small set of courses that will be taught remotely. This will de-densify the teaching schedule and allow flexibility for faculty and students, enabling first-year students to make further progress toward completing Division I, Division II students to add to their portfolios, and Division III students to fulfill Advanced Educational Activities. Jan Term courses are included in the tuition for the academic year.

Spring classes are set to start on Tuesday, February 2, and to run through Thursday, April 29. There will be no extended Spring Break. Commencement is still scheduled for May 15, 2021.

August 20: New Student Move-In

August 20–23: New Student Orientation Programming

August 22–23: Continuing Students Move-In

August 24: Community Orientation/Advising Day

August 25: Classes Start

November 20: Classes End

In January, we are planning an intensive 14-day term (January 4–22, 2021) with a small set of courses that will be taught remotely. This will de-densify the teaching schedule and allow flexibility for faculty and students, enabling first-year students to make further progress toward completing Division I, Division II students to add to their portfolios, and Division III students to fulfill Advanced Educational Activities.

Spring classes are set to start on Tuesday, February 2, and to run through Thursday, April 29. There will be no extended Spring Break. Commencement is still scheduled for May 15, 2021.

Class Schedules

We have revised our class schedule to provide more time between class periods, allowing more time for surfaces to be cleaned and for classrooms to be aerated. We have also added more class periods in the evenings and have distributed classes more evenly from Monday through Friday.

Teaching and Learning

Faculty are building course options and schedules that support students' needs and are adaptable in the event of changing circumstances. Courses will be offered in one of three different hybrid teaching modes:

Faculty hold classes in-person with students attending in-person or remotely;
Faculty hold some class sessions in-person and others online, with students attending in-person or online;
Faculty hold classes remotely with students attending online or in-person (facilitated by a teaching assistant).

In each of these teaching modes, students have the option of accessing courses remotely or online. Some course elements may not be fully available in the online setting, but faculty are working to ensure that all students will be able to meet the learning goals of their courses. Five College courses will continue to be available to Hampshire students, though solely in a remote format.

Re-Registration for Classes

Due to the revised class schedule and the need for faculty to rethink and redesign their courses for next year, Hampshire students will need to re-register for fall courses. Students will also have to re-register for courses at the other Five Colleges, all of which have revised their schedules and changed course offerings. We know that this is inconvenient, but it is also necessary. We will update you soon on the dates and procedure for Hampshire and Five College course re-registration.

We know that no community can eliminate the risk of the virus. But we believe that our careful planning combined with community adherence to health and behavioral standards will allow us to lower that risk substantially and to offer a robust, exciting, and uniquely Hampshire on-campus experience in the coming year. We will continue to provide regular updates as our plans proceed. If circumstances change, we will adapt creatively to meet them. We are excited to welcome students back to campus this fall for what will be an unusual but also an exciting and fulfilling year at Hampshire.

Zoom Presentations with Students & Families

   
1