A "Living" Building

Events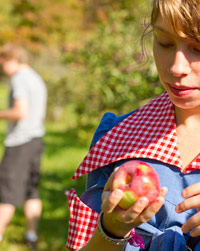 A generous gift from Gary Hirshberg 72F, co-founder and Chairman of Stonyfield Farm, launched the initiative to integrate food, operations, and curriculum, and build a culture of sustainability at Hampshire College. Recent funding from the Lydia B. Stokes, Henry P. Kendall, and Vervane Foundations, and the U.S. National Science Foundation is propelling this effort forward.

The sustainability initiative is focused on four key transitions. Building upon Hampshire College's strong foundation of innovative research, forward-thinking decision-making, and environmental action and awareness, Hampshire is actively transforming its food systems, campus operations, creative curriculum, and campus culture. This effort capitalizes on the ingenuity, entrepreneurship, and commitment to social justice that have always characterized the Hampshire College community.
Our work on these four key transitions is guided by the Sustainability Transition Advisory Committee (STAC), the Food, Farm, and Sustainability Advisory Committee, and the Environmental Committee, which oversee and organize the transition process.
foodoperations creative cultural
---
From innovative research to forward-thinking decision-making, environmental action and awareness are central parts of Hampshire College's culture.
A "Living" Building

Events