Associate Professor of Legal Studies and Anthropology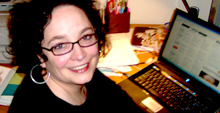 Jennifer Hamilton, assistant professor of legal studies and anthropology, received her B.A. in anthropology and English literature (McGill University) and her Ph.D. in anthropology (Rice University).

Her interests include social studies of law, science, and biomedicine, theories of culture and identity, and critical race and gender studies.

She is the author of Indigeneity in the Courtroom: Law, Culture, and the Production of Difference in North American Courts. Her most recent research examines human genetic variation research and the sociocultural, legal, and ethical formations which emerge around it.