Associate Professor of Evolutionary Biology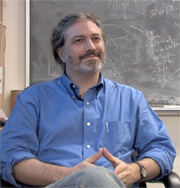 Charles L. Ross, associate professor of evolutionary biology, received his B.S. and M.S. in biology from Stanford University, and his Ph.D. in ecology and evolutionary biology from Cornell University.

He did postdoctoral work at the University of Arizona and New Mexico State University.

Charles studies the ecological and evolutionary genetics of hybrid zones and speciation, specifically in crickets. His research and teaching interests include all aspects of evolutionary biology, as well as population genetics, molecular ecology, entomology, and genomics. Other interests include Ultimate, backpacking, and good wine.