Assistant Professor of Statistics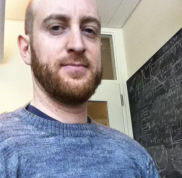 Ethan Meyers, assistant professor of statistics, received his B.A. in computer science from Oberlin College, and earned his Ph.D. in computational neuroscience from the Massachusetts Institute of Technology. 
Ethan's research focuses on creating methods for analyzing high dimensional neural signals in order to understand the neural processing that underlies object recognition, working memory and other cognitive processes. 
Ethan's teaching interest span a range of topics including statistics, machine learning, data science and computational neuroscience.