Visiting Assistant Professor of Cognition and Education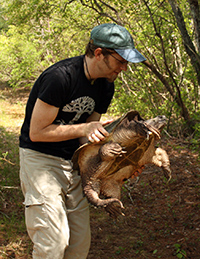 Timothy (Tim) D. Zimmerman, visiting assistant professor of cognition and education, received a B.S. in biology and marine biology from the University of Massachusetts, Dartmouth, an M.S. in marine biology from the College of Charleston, and a Ph.D. in science education from the University of California, Berkeley.
He researches learning and teaching of ocean and environmental science concepts in non-school contexts (e.g., museums, environmental education excursions, field trips) and its relationship to environmental decision-making. To achieve this, Tim combines qualitative, quantitative and design-based research methodologies to study learners as they move spatially and temporally across informal-formal learning context boundaries. He has given presentations on his research at dozens of national and international conferences, invited workshops and at the National Science Foundation.
He designed and taught course at Rutgers University, UC Berkeley and the College of Charleston. Tim has also developed marine and environmental science curricula for, and conducted learning research in conjunction with, several organizations and institutions, including the Lawrence Hall of Science, the National Geographic Society, the U.S. National Oceanic and Atmospheric Administration, the Monterey Bay and New York Aquariums, and the Massachusetts Audubon Society. He is currently PI of a 3-year NSF funded ITEST grant seeking to understand 21st century learning of ocean science concepts, and co-PI on two NSF grants (REU; IRES) studying science learning during apprenticeship model research experiences for students. When he's not on campus, you will likely find him rock climbing, hiking, enjoying live music and/or spending time with his family.