Associate Professor of Computer Science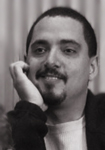 Jaime Dávila is an associate professor of computer science at Hampshire College, where he has worked since 1999. He obtained his Ph.D. from the City University of New York in that same year.
His main research interest is in the area of genetic optimization of neural networks for human-like tasks, mainly for cooperative, team-based games. He is currently studying ways in which the coding of evolved parameters affect the performance of artificial multi-agent systems under environments with changing conditions. He is also interested in issues of technology and society, such as access to STEM education for underrepresented students, privacy and data collection on the Internet, and the effect of new media and new technology on the economy.
His papers have been presented at conferences such as the International Joint Conference on Neural Networks, the Congress on Evolutionary Computation, and the International Conference on Neural Information Processing.